The Infiltrator
(2016)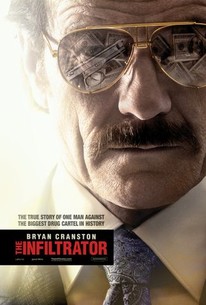 TOMATOMETER
AUDIENCE SCORE
Critic Consensus: The Infiltrator's compelling fact-based story and tremendously talented cast are often just enough to balance out its derivative narrative and occasionally clunky execution.
Movie Info
Based on a true story, U.S. Customs agent ROBERT "BOB" MAZUR (Bryan Cranston) goes deep undercover to infiltrate Pablo Escobar's blood-soaked drug trafficking scene plaguing the nation in 1985 by posing as slick, money-laundering businessman Bob Musella. Teamed with impulsive and streetwise fellow agent EMIR EBREU (John Leguizamo) and rookie agent posing as his fiancé KATHY ERTZ (Diane Kruger), Mazur befriends Escobar's top lieutenant ROBERTO ALCAINO (Benjamin Bratt). Navigating a vicious criminal network in which the slightest slip-up could cost him his life, Mazur risks it all building a case that leads to indictments of 85 drug lords and the corrupt bankers who cleaned their dirty money, along with the collapse of the Bank of Credit and Commerce International, one of the largest money-laundering banks in the world.
News & Interviews for The Infiltrator
Critic Reviews for The Infiltrator
Audience Reviews for The Infiltrator
½
I am not entirely sure how they managed to make such an uninteresting movie, considering the great cast and fascinating actual events, but somehow they did. The story keeps dragging on in the middle, the emphasis sometimes seems to be on the wrong details and characters and there aren't enough high adrenaline moments to actually chew on your fingers. Wasted opportunities all over the place.
½
After their collaboration on The Lincoln Lawyer in 2011, Director Brad Furman reunites with Bryan Cranston and John Leguizamo once again. Most of the positivity surrounding that film was slightly overshadowed by Matthew McConaughey's renewed invigoration for dramatic acting (or the start of the McConaussance as it came to be known) while the likes of Cranston and Leguizamo filled in as support. The film itself was a decent enough legal thriller and now with The Infiltrator, Furman explores the other side of the law. Only this time, his fringe players take the central roles. Plot: Alongside partners Emir Abreu (John Leguizamo) and Kathy Ertz (Diane Kruger), Federal agent Bob Mazur (Bryan Cranton) goes deep undercover to infiltrate a drug trafficking organisation that reaches all the way to Columbian drug lord Pablo Escobar. The deeper Bob goes, though, the more danger he puts himself and his family in until he's so deep he's left with no choice but see it through to the end. There's really nothing going on in The Infiltrator that we haven't seen before. It's old but, admittedly, not yet tired ground we're covering here; undercover agent and devoted family man putting his neck on the line to infiltrate some serious criminal players. Needless to say, it affects him personally and any comparisons with Donnie Brasco would be well founded. With Bryan Cranston you'd also be forgiven for having flashbacks to his sublime, star-making work on TV's Breaking Bad. Like I say, we've been here before. That said, there's still much to recommend The Infiltrator. Based on the real-life story of Robert Mazur and working from a script by his mother, Ellen Brown Furman, Brad Furman has an impressive handle on events. He displays some stylish direction and has a keen eye for period detail. Ultimately, though, he keeps an even pace and manages to hold your interest while delivering several thrilling set-pieces. There's also an impressive cast of familiar faces in supporting roles with Leguizamo, in particular, lending fine support. The lesser known but steadily rising Joseph Gilgun (This Is England, Preacher) makes a welcome appearance and it always pleases me to a see very talented low-key actor make some headway in bigger films. He's a chameleon like performer that's thoroughly deserving of more work and one that I've been watching with much anticipation. But, ultimately, there's one thing that shoulders this film and that's the leading man himself. Cranston delivers very strong work and, as always, shows a versatility and a complete command of his character. As touched upon, there are hints of his Walter White and/or Heisenberg from Breaking Bad. It may be a little too close to the bone for some but I welcomed seeing Cranston do it all again. Robert Mazur's real life story is just as tense and exciting as anything that was depicted in Joe Pistone's story as Donnie Brasco but because The Infiltrator has been filmed afterwards, it puts it at a real disadvantage before it's even had a chance. This is a shame really as Furman and his cast rarely put a foot wrong. Unfortunately, comparisons will be made and this happens to arrive a little too late for it to achieve any freshness or originality. It's not genre defining by any means but it's also not a complete right-off either. Despite it succumbing to formula, it still has many stand out scenes and maintains its momentum admirably. Cranston is most impressive and the film is worth it just for him. Mark Walker
Mark Walker
Super Reviewer
A solid cast and performance, delivering a very good dialogue. However, it neither was exciting nor unwatchable. It just plays on with any real enthusiasm from the audience.
Film Crazy
Super Reviewer
The Infiltrator Quotes
There are no approved quotes yet for this movie.