The Iceman
(2013)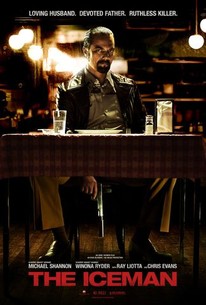 TOMATOMETER
AUDIENCE SCORE
Critic Consensus: While it deserved stronger direction and a more fully realized script, Michael Shannon's riveting performance in the title role is more than enough to make The Iceman recommended viewing.
Movie Info
Inspired by actual events, The Iceman follows notorious contract killer Richard Kuklinski (Academy Award (R) nominee Michael Shannon) from his early days in the mob until his arrest for the murder of more than 100 men. Appearing to be living the American dream as a devoted husband and father; in reality Kuklinski was a ruthless killer-for-hire. When finally arrested in 1986, neither his wife nor daughters have any clue about his real profession.(c) Millennium
News & Interviews for The Iceman
Critic Reviews for The Iceman
Audience Reviews for The Iceman
MisterYoda ?
Super Reviewer
½
Really good account of the real life mob hit man Richard Kuklinski aka "The Iceman". Michael Shannon excels! He has risen on my list of favorite actors...he really captures the conflict between the concerned family man, and the ruthless brutal killer in this film. There are many other small parts by some rather famous faces, which was quite fun to pick out. Very well done film....
Cynthia S.
Super Reviewer
Based on actual events, this is a dramatization of the life and career of Richard Kuklinski- one of America's most notorious contract killers. Over the course of a few decades, the ruthlessly cold blooded Kuklinski claimed to have killed over 100 people. As fascinating as this is, he also managed to maintain a double life almost flawlessly (until he finally got pinched). When he wasn't out killing people, Kuklinski was a feverishly devoted husband and family man, keeping the dark half of his life secret until it was too late. This film focuses on the heyday of Kuklinski's life and career, starting with his humble beginnings as a man who dubbed porn movies, and moving to his career as an ice cold killer until he finally got busted in the mid 1980s. There's a lot of condensation of the story, and plenty of omissions, but hey, when the film's only 105 minutes long, stuff has to be left out, unfortunately. The film does hit the highlights though, and gets the point across, but I wanted more. I would have loved it had this been about 20-25 minutes longer, with more scenes of character development, story, and more scenes of people getting whacked. Call me a sicko, but if you're film's gonna ape from masters like Scorsese, you should probably go all the way or not at all. This is a well made product, no doubt, but it really doesn't offer as much insight or depth, and that's a bummer since the real story and man are so fascinating. Michael Shannon is solid as Kuklinski, and he's back by an equally sterling supporting cast that includes Winona Ryder, Ray Liotta, a scene stealing Chris Evans, an atypical turn from David Schwimmer, and all too brief cameos from Stephen Dorff and (even more memorably) James Franco. I had my issues and disappointments here, but, while this film is rather bare bones, it's still watchable, so sure, you might want to give this a look. Just don't expect the whole to equal the sum of the parts.
Chris Weber
Super Reviewer
The Iceman Quotes
There are no approved quotes yet for this movie.