The Hunger Games: Mockingjay - Part 2
(2015)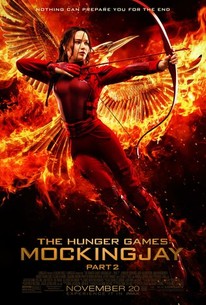 TOMATOMETER
AUDIENCE SCORE
Critic Consensus: With the unflinchingly grim Mockingjay Part 2, The Hunger Games comes to an exciting, poignant, and overall satisfying conclusion.
The Hunger Games: Mockingjay - Part 2 Videos
The Hunger Games: Mockingjay - Part 2 Photos
Movie Info
The second half of Suzanne Collins' final Hunger Games book is adapted in this Lionsgate production. ~ Jeremy Wheeler, Rovi
News & Interviews for The Hunger Games: Mockingjay - Part 2
Critic Reviews for The Hunger Games: Mockingjay - Part 2
Audience Reviews for The Hunger Games: Mockingjay - Part 2
½
It starts off well enough. Battered and bruised Katniss is examined after Peeta's trackerjacked attack. JLaw flinches ever so slightly as the doctor gently presses her collarbone to assess the damage. Her eyes are darty and untrusting, and when she tries to speak, we can tell her spirit is as broken and raspy as her voice. That's pretty much the best part. The rest, as predicted from the 2-film split, is Lord of the Rings-style slow, building to the rushed climax of Gale's betrayal, which I don't think people who haven't read the books would fully get. Then of course, long-suffering Peeta's PTSD rehabilitation with the "Real or Not Real" game is hardly touched upon, and the flashforward epilogue is too shiny and pat. And did anyone else think that baby's head was ridiculously huge?
Alice Shen
Super Reviewer
½
It's arguably the weakest of the four films, and certainly overlong (this film could have been 30-40 minutes shorter). However, The Hunger Games series in total accomplishes what no other YA franchise has been able to do: combine excellent acting with timely and smart commentary on the nature of politics, war, and media. So, despite its flaws, Mockingjay Part II is a continuation of the franchise's sleek, intelligent filmmaking. In addition, the film features stunning art direction and well-choreographed action sequences.
Matthew Samuel Mirliani
Super Reviewer
½
Hunger Games: Mockingjay Part 2 Review: Let me preface this by saying that not everyone is going to like this film. In fact it will be so divisive that you'll either outright hate it or like it. I'm also in the camp that disliked aspects of the book, so going into this film I was feeling very hesitant to seeing the scenes I hated played out. However, under the assured direction of Francis Lawrence, the Hunger Games: Mockingjay Part 2 transcends its source material in every way possible. The movie is hauntingly grim throughout, and hope is sparse- as it should be! This movie doesn't aim to gloss over the effects of war or PTSD, it tackles them head on, unflinching, which can be hard for an audience member to take in. This movie will make you feel whether you want to or not- it will not let you stay pedestrian as it demands a reaction to what you're viewing. A lot of credit also has to be given to Jennifer Lawrence, who's nuanced and at times passive reactions to the events around her are so perfectly fit for this dystopian world. There is a scene towards the end of the film, that is so heartbreaking and Lawrence commits her all into the scene, truly encapsulating the grief of loss. Josh Hutcherson also shines in this final instalment, giving a real depth to Peeta during his period of recovery. The other noteworthy performance comes from Donald Sutherland as President Snow. This film isn't perfect and there are many flaws (especially with pacing), and an argument can be made to splitting the movies into two parts (it still would of worked in one film) but I'm willing to overlook the flaws in this movie, through the way it spoke to me, and at the moment it's a touching piece of commentary of the ongoing conflicts around the world. I'm giving this final part a perfect score- does it fully deserve it? No, most probably not. But if I didn't give it a perfect score, I would be being disingenuous to myself. 4.5/5
Jarrad Climpson
Super Reviewer
The Hunger Games: Mockingjay - Part 2 Quotes
There are no approved quotes yet for this movie.