The Hunchback of Notre Dame II
(2001)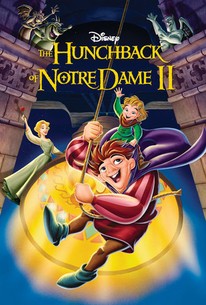 The Hunchback of Notre Dame II Photos
Movie Info
This direct-to-video sequel to Disney's The Hunchback of Notre Dame finds Quasi (voiced once again by Tom Hulce) falling in love with a magician's assistant while attempting to foil that same magician's plan to steal his bells. Previous cast members return (Kevin Kline, Demi Moore, Jason Alexander), while two new characters feature the vocal talents of Haley Joel Osment and Jennifer Love Hewitt. This release faithfully upholds the standards parents have come to expect from Disney.
Critic Reviews for The Hunchback of Notre Dame II
Audience Reviews for The Hunchback of Notre Dame II
Quasimodo and his friends are back in the direct-to-video sequel The Hunchback of Notre Dame II. The main cast returns, and are joined by Jennifer Love Hewitt and Haley Joel Osment. The animation however, is extremely poor and isn't even up to television standards (Disney should be embarrassed). But even worse is the trite, uninspired story about a traveling circus that's attempting to steal a jewel encrusted bell that's in the Notre Dame cathedral. Additionally, the constant hammering of the theme of things being beautiful on the inside is annoying. Incredibly ill-conceived, The Hunchback of Notre Dame II is a generic piece of tripe that betrays Victor Hugo's original vision.
Dann Michalski
Super Reviewer
Not as good as the great first film
Bradley Wright
Super Reviewer
½
Yeah, it is by the numbers, but what do you expect from a direct to video sequel of a B-level Disney film? I feel like we've seen this particular story before (maybe in the first film), but nothing here is particularly bad. Some of the animation looks cheap-especially medium and long shots of characters and backgrounds; there is an astonishing lack of detail and muddiness in those shots. At least the movie brought back most of the original voice talent and didn't cheap out in that respect.
Jason Vargo
Super Reviewer
The Hunchback of Notre Dame II Quotes
There are no approved quotes yet for this movie.