The House That Jack Built
(2018)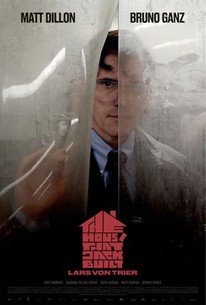 TOMATOMETER
AUDIENCE SCORE
Critic Consensus: The House That Jack Built presents writer-director Lars von Trier at his most proudly uncompromising: hard to ignore, and for many viewers, just as difficult to digest.
The House That Jack Built Videos
The House That Jack Built Photos
Movie Info
Boundary-pushing cinematic visionary Lars von Trier (Antichrist) returns with one of his most daring, masterfully provocative works yet. In five audacious episodes, failed architect and arch-sociopath Jack (Matt Dillon) recounts the elaborately orchestrated murders-each, as he views them, a towering work of art-that define his "career" as a serial killer. Mixing pitch black humor, transcendent surrealism, and renegade musings on everything from history to architecture to cinema, von Trier fashions a radical, blazingly personal inquiry into violence, art, and the twin acts of creation and destruction. With Uma Thurman, Riley Keough, and Bruno Ganz.
News & Interviews for The House That Jack Built
Critic Reviews for The House That Jack Built
Audience Reviews for The House That Jack Built
½
I believe I'm ready to cast Lars von Trier in the same dustbin I've consigned Terrence Malick and Michael Heneke. I think I'm done with him and his films. The man has obvious talent but is often his own worst enemy, given to self-destructive impulses and excessive cruelty meant to be daring and challenging but is mostly perfunctory. The House That Jack Built is distasteful by design but also heavy-handed, obvious, and vacuous to a fault. Jack (Matt Dillon) narrates his life as an American serial killer in the 1970s and 80s. He's traveling through the afterlife with the help of Verge (Bruno Ganz), a supernatural guide and easy listener. Jack divides his murderous exploits into a series of five key incidents: Lady 1 (Uma Thurman) being picked up looking for car help; Lady 2 (Siobhan Fallen Hogan) as a suspicious neighbor answering the door; Lady 3 (Sofie Grabol) as a mother with kids who is taken hunting and then literally hunted; Simple (Riley Keough), the one who tried to get away; and finally the last scenario where Jack tried to kill multiple men with a single "full metal jacket" bullet. Along the way, Jack talks about the frustrations of his boyhood and adulthood, living with OCD, and the implications of his life's legacy. It's not that a serial killer film, whether it be a psychological examination or gnarly genre thrill ride, can be without artistic merit, but von Trier settles for empty provocations. He's using the nature of the movie serial killer to essentially terrorize the audience and make them question what entertainment value they ever saw in these kinds of figures and stories, or von Trier's films at that. I was expecting an unsettling experience given the nature of the subject and the reputation of the filmmaker, but what made the situation all the more oppressive and disquieting is how obvious and heavy-handed everything comes across. The central metaphor could not be any more transparent for any person familiar with von Trier's back catalogue of punishing feature films. Jack views himself as an artist, specifically an architect, and his art is via terrorizing women for personal satisfaction. In case you needed it further spelled out, Jack is von Trier, a filmmaker who makes movie after movie featuring a central heroine being abused and exploited with no cosmic justice. A von Trier film experience is all about unchecked suffering and systemic abuse from the patriarchy. Sometimes this can be a condemnation that elicits strong emotional responses like a Dancer in the Dark, and other times it feels like von Trier wallowing in flip nihilism, like the conclusion of his two-part Nymphomaniac opus that undid the preceding four hours. Jack kills women for his art; von Trier tortures women for his art. There you go. With that central metaphor established, you'd expect the movie to become an introspective and excoriating probe into von Trier as a notorious filmmaker who often shocks and appalls. Oh how wrong you would be. The House That Jack Built is the same stale slog only with a slight meta twist. For no better example of how heavy-handed the movie is, simply observe its unnecessary framing device where Verge/Virgil is literally leading Jack in the dark toward the subterranean bowels of Hell and the two are digressing the long walk. My friend and filmmaker Jason Tostevin said he was watching The House That Jack Built with a "scrunched-up face" for its majority until the last thirty minutes when he accepted it as a morose comedy, and then it started playing better for him. That might just make sense, considering von Trier's overwrought pitch-black sense of humor and overall belief that life is a joke. I did laugh out loud once Jack and Verge are floating in bubbles. It also provides some, not much, context to scenes like Thurman's, where she keeps needling Jack about what a bad serial killer he would be based on his decisions. It's almost like von Trier is trying to say that Jack took the psycho killer plunge because a bossy woman kept annoying him and pushed him into it. The early sequence of Jack stumbling into being invited into a woman's home has a clumsiness that almost invites a degree of wicked comedy, especially after Jack tries to treat the woman who seems incapable of dying. There's also the absurd conclusion of the 'house" Jack actually finally constructs. However, even as a supposed "comedy," The House That Jack Built is an obnoxious experience that will make you feel worse by the end of its painfully lugubrious 150-minutes. Nate's Grade: C-
Nate Zoebl
Super Reviewer
SUBTERRANEAN GROSS AND SICK BLUES - My Review of THE HOUSE THAT JACK BUILT (4 Stars) The films of Lars Von Trier have definitely earned their polarizing status, always swinging for the fences with their provocative, unflinching portrayals of...well, I think his films are about death, the ugliness of human nature, and ego. Many will view his latest, THE HOUSE THAT JACK BUILT, as an epic-length, high body count, exploitative, serial killer film with little to no redeeming social value. I found it to be a whip smart, sickly funny exploration of our souls. To each their own. Matt Dillon, in a hypnotically disturbing performance, plays Jack, an architect with over 60 gruesome murders under his belt. We hear him first in a voiceover conversation with a mysterious man named Verge (Bruno Ganz) as they discuss five incidents in Jack's troubling "career". They also delve into Jack's childhood, which includes one particularly traumatizing image, Jack's endless pursuit of building his own ideal home, odd clips of the pianist Glenn Gould, shots from Von Trier's prior films, and Jack flipping cards filled with various words much like as in Bob Dylan's "Subterranean Homesick Blues" video. It all adds up as a strange treatise on the nature of art and what defines it. Even sick minds such as Jack's, Von Trier appears to argue, contain the soul of an artist. Much like Michael Haneke's FUNNY GAMES, this film plays with the discomfort victims feel when facing their killer. With such victims as Uma Thurman, as a woman stranded on the road unlucky enough to hop into Jack's van, or Siobhan Fallon Hogan as a widow who lets Jack into her home, we experience painful interactions which show Jack trying against his instincts to portray a relatively normal guy. With Thurman, he can barely control his rage as she jokingly discusses that he is probably a serial killer. With Hogan, he repeatedly changes his story, first as a cop and then as an insurance salesman...anything to get inside and kill her. Other scenarios show him with a mother and her two children, a young woman he dubs "Simple" (Riley Keough) because he frankly thinks she's an idiot, and an extremely gruesome HUMAN CENTIPEDE-esque experiment with a group of men in a walk-in freezer. Throughout, Jack collects his "trophies" in said freezer, posing them for grotesque photos, trying to find his artistic "voice". Von Trier takes things a step further by giving Jack the best luck of any killer in history. Not always even trying to cover his tracks, Jack barely hides in plain sight, allowing his victims to scream as loudly as they wish, or in one incredible sequence, watching in awe as Mother Nature literally washes away any evidence. It makes for a challenging theme, inviting the audience to not exactly root for Jack, but to conspire with him. We may not want Jack to make the perfect artistic statement or build his perfect home, but it's fascinating to find out what it is nonetheless. I'm gonna subtract a few points from this film for cribbing so obviously from Bryan Fuller's great HANNIBAL series with its Hieronymus Bosch-like corpse art. It was shocking to see then, but not so much now. Jack should have come up with his own ideas! Even Von Trier isn't content to just show one killing after another. He wants to make a grand statement. The films runs over 2 1/2 hours after all. As such, he takes the final act of the film, an epilogue of sorts, to a truly dark place. It's a wild leap to take us into such a special effects-laden environment, especially considering the naturalistic way the rest of the film comes across, but it's in keeping with Jack's curious nature. He's always looking for a way to wriggle out of any situation or to take advantage of weakness. He argues that killing and death are art forms. As decent human beings, we may heartily disagree, but THE HOUSE THAT JACK BUILT has a good time making its case. Although much of the violence appears offscreen, a few moments are absolutely sickening. Still, I think it does a great job of putting us into a serial killer's mindset, giving it a type of morbid value. Most will disagree and find this an irredeemable, endless bore. Serial/Cereal I say!
Glenn Gaylord
Super Reviewer
It is becoming difficult to write about any politically pertinent films without mentioning the names Donald Trump or Adolf Hitler. Rarely do such films actively draw parallels between the director himself and these reviled heads of state, but Lars von Trier is no stranger to invoking Nazis in order to court controversy or public disdain. In his brief introduction to the "unrated director's cut" of his new film The House that Jack Built simulcast in American theaters for one night only, he unceremoniously clarified where his true sympathies lay when he told the audience "...and remember America: never another Trump." Despite this, he has no qualms with making the central character Jack, an obsessive-compulsive serial killer (played by Matt Dillon) who considers himself an artist, venerates the Third Reich, and happens to be an obvious stand-in for the director. Divided into a series of five incidents with an abundance of educational and philosophical asides, the movie follows Jack recounting various murders he committed as he is being escorted down to Hell by the Roman poet Virgil (played by Bruno Ganz, an actor who's most famous role was Hitler in Der Untergang by no small coincidence). It's an inversion of The Divine Comedy in a sense, chock full of allegorical explorations of art, politics, and von Trier's own labyrinthine psyche. In one segment Jack utilizes many of the bumbling rhetorical strategies that aided Trump's rise to power while trying to gain access to a victim's house. Later, he gives a single mother and her children red baseball caps in an obvious nod to the MAGA merchandise before using the family as target practice. It's a wonderful metaphor for the grim prospects that await the working class under neo-liberalism and a myopic culture that worships the gun. Then you have every character being so incapable of accepting Jack as a serial killer until it's too late which sounds a lot like our culture's refusal to accept that the biggest perpetrators of terror attacks in America are Caucasian men. Beyond that, there are many sequences that serve as blatant abstract analysis of some of the criticisms lobbed at von Trier throughout his career. He finally gets a chance to explain the Nazi comments that got him banned from Cannes for several years through sophisticated discussion of iconography. Whether it clarifies anything is anyone's guess. One of the incidents probes his mistreatment of female characters and the actresses who play them. The scene ends up being one of the slimiest and unsettling in his oeuvre regarding that very subject, and props to Riley Keough for putting up with it. Throughout the film, Virgil serves as a voice of reason, interjecting in Jack's eloquently insane philosophical musings and theories while giving honest, if somewhat dismissive counterpoints. Yet somehow Jack's insistent amorality and veneration for "the noble rot" of man's soul always seems to cut through the lesser points that mankind has the capacity to love and help one another. Perhaps the most shocking thing about the film is how outright funny it is. I would go so far as to say that it's the most "enjoyable" (I'm using the term loosely) film of his since Dancer in the Dark. This wasn't a difficult feat as many of his films are unremittingly depressing, but it's hard not to laugh at a serial killer ranting about how nobody has the kindness to help each other out these days. It helps if you prepared for this onslaught of black humor like I did with a steady diet of John Waters and Todd Solondz films beforehand. Despite its shocking imagery and sometimes pretentious rambling, the film always returns to a tonal stasis, Dillon's performance is entrancing, and bar some goofy CGI near the end, the film is beautiful. I'm reticent to call it a masterpiece as it's so self-aggrandizing, but there's just so much here to chew on. It reminds me of Michael Haneke's film Happy End from earlier this year. Both films come off as swan songs by masters of their craft. Aside from an oddly retrospective sequence, a highlight reel from movies throughout von Trier's filmography, if we are to take Jack as an allegory for the director, his failure in intent as an architect and the resulting "house" would mirror von Trier accomplishing not what he set out decades ago to make, but nonetheless a satisfying artistic statement in his eyes. Somewhere in this pointed metaphor he's built, I'm picking up on a kind of disappointment infused with a nihilistic pride in the fact he's irreparably affected the history of cinema. Perhaps the theatrical cut will improve on some the films faults, but as it stands it has been one of my most satisfying theater going experiences this year.
K Nife Churchkey
Super Reviewer
The House That Jack Built Quotes
There are no approved quotes yet for this movie.