The Horseman
(2008)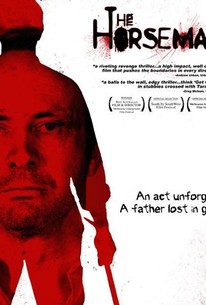 Movie Info
A seemingly ordinary man turns to violence in this independent thriller from Australia. Christian Forteski (Peter Marshall) is a businessman whose teenage daughter Jesse (Hannah Levien) has been living on the edge since her parents divorced. Jesse runs away from home, and several weeks later Christian's anxiety about his missing daughter turns into rage when he receives a video in the mail of Jesse being brutally raped. Normally level headed, Christian jumps into his car and sets out to find whoever is responsible for making the video, starting with the people who mailed it to him. While heading north to Queensland, Christian picks up Alice (Caroline Marohasy), a teenage hitchhiker who reminds him a bit of Jesse. Christian and Alice strike up a friendship, and she begins to see the older man as someone she can trust, without knowing that Christian was turned into a deranged killing machine, leaving a trail of victims as he drives across the country to avenge his daughter. The Horseman was the first feature film from writer and director Steven Kastrissios; it was expanded from a short film by Kastrissios which was a prizewinner at the 2006 Queensland New Filmmaker Awards. ~ Mark Deming, Rovi
Critic Reviews for The Horseman
Audience Reviews for The Horseman
To call this mindless violence would be inaccurate. Whilst incredibly violent in a very gritty way, the acting is of high standard and the storyline realistic, the violence is the outcome of a man pushed to his limits and is destroyed by events. The main character was really impressive, a great revenge flick, with a dark character that you can empathise with.
Lady D'arbanville
Super Reviewer
½
Violent Aussie revenge film about a father on the hunt for the men who were responsible for the death of his daughter after they fuelled her with drink and drugs during a porn shoot. It's gritty and brutal with some scenes of torture but it's shies away from showing anything in graphic detail. The film does get a little slow during the middle parts and it isn't as strong as other revenge films out there. A real good attempt for its budget.
½
A revenge flick done right. No big surprises, but a consistent tone and potent violence keep this on track.
The Horseman Quotes
There are no approved quotes yet for this movie.