The Hippopotamus
(2017)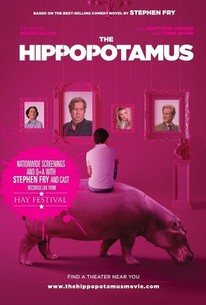 Movie Info
The Hippopotamus is the story of a poet who is summoned to his friend's country manor to investigate a series of unexplained miracles. Three-time Olivier Award winner Roger Allam (Endeavor, The Queen, V for Vendetta) stars as the disgruntled, cantankerous, semi-famous poet Ted Wallace who is hired to investigate strange doings at Lord and Lady Logan's country manor, Swafford Hall. Golden Globe Winner Matthew Modine (Stranger Things, Dark Knight Rises, Full Metal Jacket) plays the stupendously rich and gregarious Lord Michael Logan. Fiona Shaw (five Harry Potter movies) co-stars as the doting mother Lady Logan. Tim McInnerny (Notting Hill, Game of Thrones) plays the flamboyant and gullible theater director Oliver Mills. The film is directed by John Jencks and produced by Jay Taylor and Alexa Seligman. This is the first Stephen Fry novel to be adapted as a feature film.
News & Interviews for The Hippopotamus
Critic Reviews for The Hippopotamus
Audience Reviews for The Hippopotamus
Different, intelligent, and refreshing, but very weird. The credits are pink, suggesting a light-hearted chick-flick film, but it didn't quite match the tone of this movie. Ted, an old fart of a man, is a washed-up cynical poet and a drunk who surprisingly has a superior attitude. He's a total British snob who was once a famous poet, but hasn't written a poem in years. When the movie begins, Ted works as a theatre critic, but is rude and mouths off to his boss. Thus, his boss fires him. A pretty young woman (daughter of a woman who Ted had a past relationship with) pays him handsomely to find a cure for her leukemia at a relative's lush estate where his godson resides. Ted's godson, David, (an odd but sweet 16-year-old boy), is thought to be able to cure people with his hands, an idea that Ted scorns. The movie shows the relationship between Ted, his godson, and the people who reside in the mansion, some of who lost favor with Ted years ago, with good reason. Ted is despicable. I was curious about the boy, the godson, and this kept me watching. The boy adored Ted even though Ted discarded and neglected his grandson. I also liked the older dark-haired woman who actually liked Ted, the lady who had asthma. I thought she was the best actor/actress in the film. Sometimes funny, often quirky and off-beat, this unusual film kept my interest, despite my Ted being an unlikable and grotesque character.
The Hippopotamus Quotes
There are no approved quotes yet for this movie.