The High Cost of Living
(2011)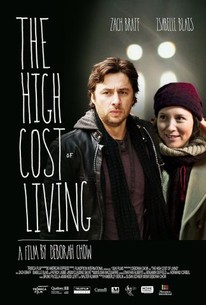 The High Cost of Living Photos
Movie Info
THE HIGH COST OF LIVING is the story of a young pregnant woman whose world falls apart when she loses her baby in a hit and run accident. It starts with an accident. Henry (Zach Braff) makes a wrong turn and crashes into Nathalie (Isabelle Blais). In a fit of panic, and over the legal limit, he cuts and runs, leaving Nathalie lying in the street, unconscious, bleeding and eight months pregnant. She wakes up in the hospital only to find her bright future destroyed and the baby she is still carrying, dead. Her husband, Michel (Patrick Labbé) is too unnerved and emotionally bereft to deal with the tragedy. As her life unravels, she stumbles across Henry - who has been searching for his victim. Unaware of what he has done, Nathalie sees him as an unlikely guardian angel, everything Michel is not - compassionate, charming and a little crazy. She finds a welcome relief in the tall, rumpled stranger that seems only too willing to offer her refuge. But Henry has his own problems. His past misdeeds are catching up, and he soon discovers that the police are steadily closing in. The inevitable collision will force both Henry and Nathalie to confront loss, labour and life, and to ultimately decide whether the cost of living is worth the price. -- (C) Official Site
News & Interviews for The High Cost of Living
Critic Reviews for The High Cost of Living
Audience Reviews for The High Cost of Living
A film that more the likely you will not see in the theater unless you go to a film festival. This is one outstanding movie. Henry is a drug dealer in Canada, Nathalie is a women in a relationship that comes to an end when she is about to have a baby and Henry hits her with his car by accident. So stars a great love story with sad outcome. 5 stars for this one. 12-1-12
Bruce Bruce
Super Reviewer
Good movie about humanity, suffering, and the need for redemption. This movie points out that life isn't all black and white, there is an area of gray that covers most human interaction. Zach Braff, and Isabelle Blais, do a fantastic job here. Very moving film. A perfect, and fitting ending, too....
Cynthia S.
Super Reviewer
A drug dealer hits a pregnant woman and later befriends her. As much as I like Zach Braff, I found it difficult to believe his performance as a drug dealer. The film doesn't follow his business workings too closely, and it's a good thing because the genial, charismatic Braff looks out of place with a five o'clock shadow and a cigarette. Most of the drama takes place between Braff's character and an inscrutable performance by Isabelle Blais. The result is a film that is remarkably improbable but also quite predictable. Overall, I'm all for actors who expand their boundaries, but this is what it looks like what an experiment goes wrong.
Jim Hunter
Super Reviewer
The High Cost of Living Quotes
There are no approved quotes yet for this movie.