The Heartbreak Kid
(2007)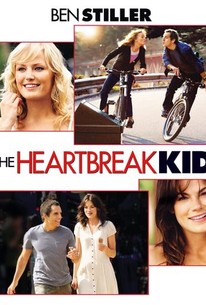 TOMATOMETER
AUDIENCE SCORE
Critic Consensus: Despite some amiable performances, The Heartbreak Kid is neither as daring nor as funny as the Farrelly Brothers' earlier films.
The Heartbreak Kid Photos
Movie Info
Single and indecisive, Eddie begins dating the incredibly sexy and seemingly ideal Lila. Fearful that it may be his last chance at love and happiness, with the encouragement of his father and his best friend, Eddie proposes to Lila after only a few weeks. However, while on their honeymoon in sunny Mexico, Lila reveals her true beyond-awful nature and Eddie meets Miranda, the woman he believes is his actual soul mate. Now Eddie must keep his new, increasingly horrid wife at bay as he attempts to woo the woman of his dreams.
News & Interviews for The Heartbreak Kid
Critic Reviews for The Heartbreak Kid
Audience Reviews for The Heartbreak Kid
The Farrelly Brothers have made some terrific, hilarious comedies in the past. Some of their films are modern classics and are still funny time and time again. However with The Heartbreak Kid, they make their worst film. I found the film to be unfunny, and tiresome with a cast that simply didn't bring anything good to the screen. I felt that the film could have been much better, and though it had an interesting idea, simply didn't do anything for me. The Farrelly Brothers have made better films, but this film just didn't have what their previous films had. Even with some comedians on-screen, the film didn't possess anything memorable. The gags really didn't hold up, and grew tiresome after awhile. Also I felt that the paper thin script lacked despite its unique idea. I felt that the story could have been more elaborate, and that overall the Farrelly Brothers are starting to lose their touch as comedic filmmakers. As the film unfolded, it just got worse and worse. I really didn't enjoy this film, and I felt that it had so much potential of being a very entertaining film. Unfortunately this is one bad film that uses its comedy in a really bad way. I barely laughed and I was bored most of the time. The Heartbreak Kid simply doesn't have the same charm as other Farrelly Brothers comedies. This is their worst film, and afterwards I simply avoided their films. If you're expecting something good from this film, you'll be sadly disappointed. The Farrelly Brothers are passed their prime, and have yet to return to the making great comedies. This film was bad, and I was expecting more from this, I was great disappointed with this one. An almost laugh free comedy, The Heartbreak Kid is a film to avoid.
I like the Stillers allot, most comedies Ben makes are really fun, light hearted and usually spoofy, this has the added bonus of having his dad Jerry in there with him. Together they are great, Jerry is hilarious (check 'The King of Queens') and Ben always hits the right note to make your day seem alittle better, the everyman's man. This is a tad similar to some of his previous films, mainly 'Meet The Parents', the poster is even close, but its so enjoyable and the characters are all very likable. The humour is just right, you can relate to it, it has alittle slapstick and also quite sharp here and there. Its all very predictable of course but that's OK, this is just a fun ride to make you feel good, nothing to special though. 'if your wife asks you to cock her hard on her honeymoon, then you cock her hard god dammit'
Phil Hubbs
Super Reviewer
Doc: Now listen to me and listen to me good! When your wife, on her honeymoon, asks you to cock her, you cock her good, God damn it! The Heartbreak Kid is a decent enough comedy. I haven't seen the original, so I have nothing to compare it to. The movie isn't great by any stretch of the imagination and is actually quite dull in sections. There were enough characters I liked to make the experience worth the watch. The first part of the movie is the funniest because of Jerry Stiller and the way he speaks to his son about sex. Rob Coddry has a small, but decent role. I always like Danny McBride. But in the end Michele Monaghan saved this movie. Ben Stiller is alright, but he can't hold up a movie by himself. He just doesn't have enough presence to pull that off. The Heartbreak Kid centers around Eddie Cantrow who has been unsuccessful with love and has fears about getting married. He then meets a seemingly great girl Lila. In order to keep her from going to Europe for her "job." So he jumps into marriage early and learns that Lila isn't as great as she once seemed. Not a very good comedy, but there's enough to make the experience somewhat enjoyable.
Melvin White
Super Reviewer
The Heartbreak Kid Quotes
There are no approved quotes yet for this movie.