The Hatred
(2017)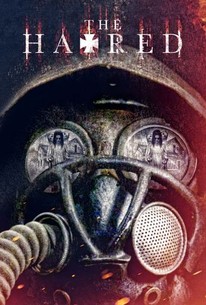 AUDIENCE SCORE
Critic Consensus: No consensus yet.
Movie Info
Four college students spend the weekend at their professor's new rural home, but soon learn the property's sinister history.
Critic Reviews for The Hatred
All Critics (2) | Fresh (0) | Rotten (2)
The Hatred is so ill-considered and ineffectual, it is in the end rather more irritating and frustrating than it is remotely thrilling.
None of the coeds trapped in the Nazi-haunted B & B seem that scared. Why should we?
Audience Reviews for The Hatred
I feel like after October's, relatively, successful horror fest, I'm off to a rough start for November for one reason or another. Four movies into the month, fifth one I'll watch later tonight, and not a single one of them has been good. Yes, spoiler alert, I thought this movie was not very good. Haunted house horror movies are an intriguing subgenre to me because, quite frankly, it's hit or miss, more often than not. I find that the problem with a lot of of these movies is the fact that a lot of it is predicated on building a tense atmosphere, where they ratchet up the impending dread exponentially as the film progresses. This eventually concludes with everything going to shit and the horror really kicking off in the third act. The problem with this approach, however, is that a lot of movies don't really bother with establishing a creepy atmosphere around the house it may take place in. Ultimately, unless we're talking about the elite of the elite (like The Others or The Conjuring), a lot of haunted house films end up boring me, they really do. That's obviously not meant to be a blanket statement as there are still good movies within the genre that might not necessarily be among the elite. And, if it wasn't obvious by the rating that I'm giving this movie, this is not among the elite. I also think this movie suffers from just poor timing. Incredibly poor timing, in fact. The reason I say this is because, for the past week and a half, or so, I was watching The Haunting of Hill House on Netflix. I finished watching the series' last two episodes yesterday, just like 4 or 5 hours prior to starting this movie. Now, of course, this isn't a review of Hill House itself, but I did think the show was tremendous. The world-building, the creepy atmosphere (when you're done with the series look up the secret ghosts video on IGN), the characters, the writing and the acting. In short, it's just a top-notch series and one that I would easily, and gladly, recommend. With that said, if I had watched this on any other day, it might have gotten more of a 'pass', but the fact that I watched this the same day I finished Hill House frames this in a considerably less favorable light than it would have on, literally, any other day after yesterday. One of the first things that is noticeable about this from the start is that they give you the full backstory of what happened at this house. Samuel, a former high-ranking Nazi official, has moved to the United States under an assumed name (his real name is Ziegfried) and he has married and raised a teen daughter at this country house. He is incredibly controlling and refuses his daughter to leave the house. She has no social life and, understandably, she is incredibly resentful of her father for this. Long story short, after an argument between Samuel and his daughter, he slaps her with the back of his hand. His daughter, releasing all her stress, grabs this pitchfork and lunges at her father who, then, proceeds to drown her in this metal trough they have in the barn. At first it is believed Alice, the daughter, is just missing. At a later point, the mother, suspecting that Samuel had killed her daughter proceeds to kill him by filtering poison in through his gas mask. As Winston Churchill once said: "The only good nazi is a dead nazi'. I don't know if he actually says this, but it sounds like something he might say. Regardless, this flashback takes up the first 20 or so minutes of the movie and you wonder why this was done. Honestly, it's not like they could not have done this is in half the time or even more than half the time. This is why it feels, to me, that it was just a way of artificially padding out the length of the movie. Since because, without this extensive flashback, the movie runs like 70-some odd minutes and, maybe, they just felt that having that short of a movie wasn't a great idea. I don't know, I'm just speculating and, for all I know, the script could have included this from the very start. I will say, though, that Andrew Divoff, who plays Ziegfried/Samuel, has a great voice. So fast forward close to 50 years later and these group of four college women decide to spend the weekend at the same country house that is owned by family friends of Regan, who's moving to the country in order to score this job. So it's their last weekend together as friends and whatnot. Regan, Samantha, Layan and Betaine also have to look after the daughter of Regan's family friends, Irene. This is where the movie is at its best. This would be a poorly scripted and acted movie if Irene wasn't such a central character in the film, but Irene makes it much worse. The reason I bring this up is because there's something about the way that this group interacts with this little girl that feels awfully sitcom-y to me. They laugh loudly at shit that isn't remotely funny, they act stupid and they say even stupider things. It's so cringe-y, like Regan's interactions with Irene, prior to the shit going down, are so bad. Like someone actually thought that this Regan's relationship with Irene was actually reflective of how this works in real life. Not that this movie was trying to be realistic, but they're so bad at establishing a connection between these two characters because they don't know how actual human interactions work. I suppose the idea is for Regan to feel like she has to protect Irene from the house but, once again, the relationship is just awful. I could not have cared less for Regan or Irene. Mostly the latter. They try so hard to make Irene seem younger than what she really is. I mean, she's like 10 or 11 or something, but the way these women treat her, you're meant to believe she's like half her age. It's just fucking awful. The women, eventually, start finding out more and more about the house and who owned it, slowly peeling back the layers of this mystery THAT I ALREADY KNOW THE ANSWER TO. Like, really, this is scripting 101. Or, at least, I feel like it should be, because why would I even bother caring about these women finding out what went on in this house if I already know what is happening. It just feels like we're wasting a lot of time on bullshit that really doesn't matter that much. I feel like it would have been much more interesting, for me, if I was as in the dark as the characters themselves were. Peeling back the layers slowly until everything is revealed. But, no, the movie blew its wad in order to be longer than it probably should have been. And it's not like this is Get Out or Hereditary, where knowing what's going on, at the end of the movie, makes repeat viewings a little more messed up in that you're very much a spectator in these characters' slow descent into doom and you can't do anything to stop it. No, I don't care about these characters, so I don't care if they live or die. And, of course, die they do. There's one character, Layan, whose death I immediately forgot. Like, seriously, I could not remember how she died and it's not like the deaths are spread out either, they're sort of crammed into the last 30 or so minutes. So that's an incredibly short time span to forget something that happened not that long ago. I actually just checked to see how she died and, honestly, I have some recollection of it. Regardless, that's how bad the movie is. I had to check to find out how one of the characters died because they did such a bad job at making the death even slightly memorable. I feel like the horror, while not good, had SOME sort of potential, given the backstory setting it up. I don't feel that it would have ever been good, but it might have been decent if handled by someone with a more skillful touch than Michael G. Kehoe, who wrote and directed this movie, was able to provide. So, yea, this was a bad movie on all fronts. Bad acting, bad writing, bad horror. I can't recommend this, like, at all. If you're watching this on Netflix, and you most likely are, and you haven't seen The Haunting of Hill House yet, watch that instead of this. You will thank me for this suggestion later.
Jesse Ortega
Super Reviewer
The Hatred Quotes
There are no approved quotes yet for this movie.