The Golden Age (L'Âge d'Or)
(1930)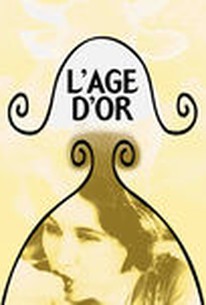 The Golden Age (L'Âge d'Or) Photos
Movie Info
L'Âge d'Or begins as a documentary about the habits of scorpions, utilizing library footage and silent-style intertitles. Amid the rocks of an inlet, archbishops are seen chanting by a beggar-soldier (Max Ernst), who then makes a long journey back to his hideout. He informs his fellow beggar-soldiers that the "Mallorcans" have arrived and it is time to bear arms and fight. But this small group of soldiers is weak and exhausted through starvation, and only one of them survives the trip back. The Mallorcans, a caravan of wealthy dignitaries and their servants, arrive to lay a cornerstone commemorating the now skeletal archbishops. The ceremony is interrupted by the screams of lovemaking, and the couple is separated by gendarmes and led away. The man (Gaston Modot), whom we later learn is a government official of some standing, establishes his nasty and anti-social character through the kicking a dog. The ceremony continues; a title card identifies this as the foundation of Imperial Rome. The next sequence intercuts scenes of the girl (Lya Lys), who is the daughter of a wealthy marquis, lost in a world of erotic fantasy, with scenes of the man being led down the street by the gendarmes. The man finally produces diplomatic papers, and is released. The marquis (Ibanez) and marquise (Germaine Noizet) throw a large party at their villa, where a number of strange events occur without the slightest notice from the guests. A momentary distraction is caused when the gamekeeper shoots his son over a minor incident. The government official arrives at the party and is soon in pursuit of the girl, although the social nature of the event, at first, keeps them apart. The marquise accidentally spills a little wine over the government official's hand, and he slaps her, exciting the girl. (Alfred Hitchcock would later echo this very scene in Strangers on a Train.) The girl and the government official are finally allowed to consummate their fetishistic desires to the strains of Wagner in an extended love scene in the garden. This is interrupted when the conductor (Duchange) of the concert nearby has a headache and walks off the podium, directly into the arms of the girl. The government official gets a phone call, where he is told that his actions have resulted in the deaths of tens of thousands of the "women, children, and old people" he is sworn to protect. He curses the caller, and enraged, he goes to his apartment to rip apart pillows and to hurl several objects, including an archbishop, out the window. The final sequence begins with a series of lengthy, and increasingly agitated, intertitles announcing that the Duc de Blangis (Lionel Salem) and his henchmen are due to emerge from 120 days of debauchery inside a secluded castle. When the party does emerge, the duke is seen to be missing his beard. ~ David Lewis, Rovi
Critic Reviews for The Golden Age (L'Âge d'Or)
Audience Reviews for The Golden Age (L'Âge d'Or)
½
Though definitely fascinating as a surrealistic experiment, it is more cryptic and rambling than Bunuel's previous film Un Chien Andalou, which makes it feel sometimes that now he is going for the "anything goes" philosophy instead of having full control of his ideas.
Carlos Magalhães
Super Reviewer
Age D'or is so wonderfully weird. It is a slice of modern theatre presented at the dawn of cinema and is remarkable for any time.
John Ballantine
Super Reviewer
So surreal, yet darkly humorous and entertaining, Salvador Dali achieves his goal of not making sense.
Dillon Lupky
Super Reviewer
The Golden Age (L'Âge d'Or) Quotes
There are no approved quotes yet for this movie.