The Gods Must Be Crazy
(1980)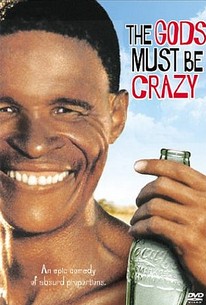 Movie Info
Kalahari bushman Xi (played by genuine bushman N!xau) is as surprised as the rest of his tribe when a Coke bottle, thrown from a passing plane, lands in the middle of their village. This "gift from the gods" proves to be a mixed blessing when the tribesmen fight over it and eventually use it for a weapon. To keep peace in the village, Xi is assigned to take the bottle to "the end of the earth" (actually a lush valley) and throw it back to the gods. Meanwhile, back in urbanized South Africa, Kate Thompson (Sandra Prinsloo) leaves her office job in the city to take a job teaching Kalahari children; once in the wilderness, she finds herself constantly bumping into clumsy microbiologist Andrew Steyn (Marius Weyers). And meanwhile, maniacal Sam Boga (Louw Verwey) is leading a military coup against the government. How do all these various and wildly divergent characters fit together? You'll have to see The Gods Must be Crazy yourself--if you haven't seen it already. This Botswanian comedy/melodrama was directed by Jamie Uys, who had helmed dozens of films before Gods and would make many more afterwards. Originally slated for limited domestic distribution in 1982, Gods Must Be Crazy was picked up for American consumption by 20th Century-Fox in 1984. Within a few weeks, "word of mouth" transformed Gods into the biggest foreign boxoffice hit ever released in the U.S. The 1989 sequel didn't do quite as well, indicating that perhaps the bloom was off the rose for N!xau and his confreres. ~ Hal Erickson, Rovi
News & Interviews for The Gods Must Be Crazy
Critic Reviews for The Gods Must Be Crazy
Audience Reviews for The Gods Must Be Crazy
Very funny if a little far-fetched. Full review later.
Thomas Bowler
Super Reviewer
This is very funny Movie.
No other film I ever saw has been able to show, so well, that "civilized" man lives in TOO COMPLEX A WORLD.. the bushmen have it ok.. technology is not needed, al these SURPLUS HUMANS THAT COVER THE GLOBE ARE NOT NEEDED! ABANDON YOUR TECHNOLOGY! ABANDON AGRICULTURE!! Ok, well i'm not abandoning these things either; I've grown so attached to my films, photography, reading, etc. The technical aspects of this film may at first bother you, when I first saw this film about 5 years ago, I knew then that the editing was a bit sloppy, or.. maybe not sloppy, but not seamless, how about.. but it doesn't matter - what matters foremost is that the idea, the communication GETS ACROSS.. it does. I may have "the message" of this film all wrong but that's ok, because it's up to me to have my own interpretation! it doesn't have to be the same as yours. what a wonderful life the bushmen have; they don't have to worry about being old, insurance, paperwork, jobs, bills, phones, electricity, car keys, etc. - granted, their life would NOT be for everyone but most people on this planet don't have it easy; in fact, few do, and I suspect that they are not "happy" or "fulfilled" and I don't care.. I'm not going to cry over the plight of any humans whose purpose for existing was/is largely an afterthought.. think about why, before you make more people.. think about the facts that they may never like you, that they may want to die at 16 years of age, that they might want to join an organization that harbors beliefs which conflict utterly with yours, that they might want to be an anti-humanity activist (contact me if the latter is the case with YOU, and I will tell you how you can help me with my propaganda) The bushmen are PART OF SOMETHING, they have a way of living that works for them, and that's something ALL "civilized" "societies" NEVER DEVELOPED, and now it's rapidly becoming too late - populations are swelling, "resources" are being taxed, some to the point of nonexistence (or soon anyway).. Personally, I'd rather be in a situation like the bushmen. I don't feel any need to live to see 50, 60, 70 years of age.. Why? What's the point? So one can procreate? And see their offspring procreate? On this planet? With what it's becoming, and the people that are responsible? No. no reason I can see to contribute to a population which is already way, way out of hand. Right.. there is a story in The Gods Must Be Crazy, and I must really like it, too, as I can't count how many times i've seen the film.. it may be that some of the story was simply a device which would allow the filmmaker's preoccupations to be spread around, maybe not. again, this is my possible interpretation, which is neither right or wrong, necessarily. make your own conclusions; I urge you to see this film. if the technical aspects are too much for you to handle, then go watch some drivel like Pearl Harbor, I'm quite sure Ben Affleck has the answer to all your little problems. In fact - this movie may have NO MESSAGE, but I think it has many. and this is something I like, is that there isn't ONE MESSAGE FORCED ON ME, which is the case with so, so, many excuses-for-films i've witnessed.. of course, a closing reminder that GOOD movies and BAD movies truly do not exist - rather, there are only films, and YOUR TAKE ON THEM. keep all that in mind.
Cassandra Maples
Super Reviewer
The Gods Must Be Crazy Quotes
There are no approved quotes yet for this movie.