The Go-Getter
(2008)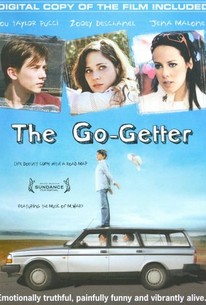 TOMATOMETER
AUDIENCE SCORE
Critic Consensus: A hipster take on the well-traveled road movie, The Go-Getter features nice performances, but ultimately fails to carve its own path.
Movie Info
For the follow-up to his feature debut, 1999's The Big Split, filmmaker Martin Hynes took on this bittersweet road movie about a teenager responding to the untimely death of his mother. Overcome with grief that he's unequipped to deal with, Mercer (Lou Taylor Pucci) decides to steal a car and hit the open road. Along the way, he discovers himself with the help of a seductress (Jena Malone) and the owner of the car (Zooey Deschanel). The Go-Getter had its premiere at the 2007 Sundance Film Festival.
News & Interviews for The Go-Getter
Critic Reviews for The Go-Getter
Audience Reviews for The Go-Getter
Manifesting the spirit of indie music (almost exclusively M. Ward, who appears on screen early on and also began his "She and Him" music collaboration with Zooey Deschanel after they met during filming), this movie wants to be sloppy and include an individual's smaller moments and dialogue because it's more real and intimate than exclusively polished, succinct scenes that methodically push a plot forward. The writer/director didn't really know his characters though, and so this movie felt so forced and fake that the individuals were unbelievable and unrecognizable as humans. 60 minutes in, I started wondering if this was just a vehicle for M. Ward songs.
Matthew Slaven
Super Reviewer
½
Cast: Lou Taylor Pucci, Zooey Deschanel, Jena Malone, Maura Tierney, William Lee Scott, Bill Duke, Giuseppe Andrews, Kathleen M. Darcy, John Anthony Delgado, Judy Greer, Jsu Garcia, Nick Offerman, M. Ward Director: Martin Hynes Summary: After the death of his mother, 19-year-old Mercer (Lou Taylor Pucci) steals a car and sets out to find his long-lost half brother. As he steers out of town, the car's owner, Kate (Zooey Deschanel), calls the cell phone left inside, but she's oddly empathetic to Mercer's plight. They develop an unusual bond over the course of Mercer's journey, which includes memorable encounters with characters played by Jena Malone, Judy Greer and Maura Tierney. My Thoughts: "I love most Indie films. Some are hits and some just miss it. This movie unfortunately for me was a miss. I love Zooey and Jena's acting and thought this was going to be really good. It was very slow pace moving. It only got a bit interesting when Zooey's character shows up. Besides then, it was quite boring.. It was a short movie but yet it felt like it was never going to end. I found myself looking at the clock to make sure hours hadn't passed by. But the highlights are that it was well acted. It was my first time seeing Lou Taylor Pucci in a film and I liked his acting very much. Its not something I would watch again but just for the acting I would reccomend people see it.
♥˩ƳИИ ƜѲѲƉƧ♥
Super Reviewer
Against it's own self sabotage, I enjoyed "The Go-Getter." The film never really goes anywhere in terms of plot (which is odd since it's a road movie) but it's the quieter moments that make it bearable. Nice performances from Lou Taylor Pucci, Zooey Deschanel, Jena Malone and a plethora of small side characters, this is a light, sometimes emotional, sometimes dumb coming of age film. It may be extremely 'indie' but it has it's moments.
Steven Carrier
Super Reviewer
The Go-Getter Quotes
There are no approved quotes yet for this movie.