The Giver
(2014)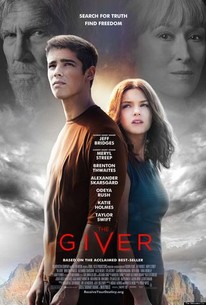 TOMATOMETER
AUDIENCE SCORE
Critic Consensus: Phillip Noyce directs The Giver with visual grace, but the movie doesn't dig deep enough into the classic source material's thought-provoking ideas.
Movie Info
The haunting story of THE GIVER centers on Jonas (Brenton Thwaites), a young man who lives in a seemingly ideal, if colorless, world of conformity and contentment. Yet as he begins to spend time with The Giver (Jeff Bridges), who is the sole keeper of all the community's memories, Jonas quickly begins to discover the dark and deadly truths of his community's secret past. With this newfound power of knowledge, he realizes that the stakes are higher than imagined - a matter of life and death for himself and those he loves most. At extreme odds, Jonas knows that he must escape their world to protect them all - a challenge that no one has ever succeeded at before. THE GIVER is based on Lois Lowry's beloved young adult novel of the same name, which was the winner the 1994 Newbery Medal and has sold over 10 million copies worldwide. (C) Weinstein
News & Interviews for The Giver
Critic Reviews for The Giver
Audience Reviews for The Giver
Not my usual type of thing, but it was a free rental and I was interested to see Taylor Swift act, so... As it happens, Taylor's scene is about 2 minutes long, so I don't know why her name is on the cover. This movie is okay. It's pretty standard of a YA novel made into a movie. If you liked The Host, The Hunger games etc, this will be right up your alley. I sat through it so it was watchable, but it's not overly memorable. Acting was so so.
Nicki Marie
Super Reviewer
**. So here is another movie that sat on my Vudu for a while that I just kept pushing back. But, with some free time I was like "Hey! I should watch that". I think I saw 1 trailer for this and really had no idea what was about. Basically, the world is changed and people have no memory of the way things were. Everything is black and white, right and wrong, and as bland as possible. Then a young boy becomes a receiver of memories, so he can see what life used to be. He gets these memories from the Giver(Jeff Bridges) and things will change forever. This really is kind of like a pussy version of "Hunger Games" and "Divergent". There's little violence, and it's one of those "things changed, and someone rises up to free people" movies for young adults. The thing that separates this is Meryl Streep and Jeff Bridges. I'm really curious how the filmmakers got them to agree to this as they are both better than this. But, they do good and bring a certain level of credibility to it. The movie is visually pretty good. But the story lacks any real punch. Maybe this was meant as a series of films? I have no idea. But, on its own, it's just "meh" at best. Worth a watch if it's cheap, but nothing that will really be remembered or talked about.
Everett Johnson
Super Reviewer
½
An interesting and unique concept that makes you wonder the benefits of promoting 'Sameness' butnthis movie just stalls halfway and never regains the audience!
Film Crazy
Super Reviewer
The Giver Quotes
There are no approved quotes yet for this movie.