The Gamma People
(1956)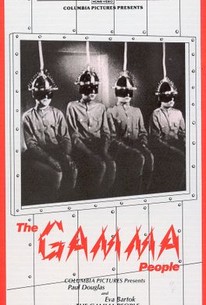 AUDIENCE SCORE
Critic Consensus: No consensus yet.
Movie Info
In this sci-fi film, an evil scientist experiments with the horrifying effect of gamma rays on children, until his scheme is discovered by reporter Mike Wilson (Paul Douglas) and his photographer buddy, Howard Meade (Leslie Phillips) who are on a journey across Europe.
Critic Reviews for The Gamma People
Audience Reviews for The Gamma People
Given its hokey plot, "The Gamma People" is a surprisingly first-class production. But picturesque locations, solid acting and capable direction aren't enough to save the film. Two journalist friends (one American and one British...why?) are on a train to Salzburg, but arrive in the tiny, uncharted country of Gudavia by mistake. The local people are upbeat and seem harmless enough, but something isn't quite right. Despite not having seen "The Wicker Man," the visitors soon develop suspicions of a lurking evil. Being crafty investigators, they discover the area is under the thumb of a fearsome Dr. Boronski. Boronski is the usual brilliant, madman scientist -- his scheme is using gamma rays to create child geniuses (along with a few adult zombies to serve as security staff). Naturally, he is upset to have his operation revealed -- even though he ordered the journalists steered to town in the first place (why?). The two leads are an interesting pair. They seem too old for these roles, yet are impressively skilled at throwing punches. But rather than being the usual hard-nosed gumshoe types, they are playful, understated and charming. I was reminded of a similar crime-solving pair from the campy "Chamber of Horrors." If you ever wondered what Kurt Von Trapp from "The Sound of Music" would be like as a Nazi, take a look at this film's wicked Hugo.
Eric Broome
Super Reviewer
The Gamma People Quotes
There are no approved quotes yet for this movie.