The Future
(2011)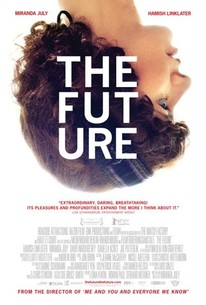 Movie Info
When Sophie (Miranda July) and Jason (Hamish Linklater) decide to adopt a stray cat, their perspective on life changes radically, literally altering the course of time and space and testing their faith in each other and themselves. -- (C) Official Site
News & Interviews for The Future
Critic Reviews for The Future
Audience Reviews for The Future
½
Didn't hold my attention but I felt like it should have. I want to give it another chance simply because it has a guy stuck in time trying to move the moon and a cat that talks before getting put down with an extremely sad monologue.
Curtis Lilly
Super Reviewer
Another eccentric film from director, performer, and actress Miranda July. That's the nicest thing I can say about this film without getting clouded in debate, because for all the impressive and interesting aspects of this film, it is painfully uneven. As a test of cinema, of the ideals behind getting to the middle road of one's life and not liking where you are it was great conceptually. You have a couple in their thirties, both happy to be together, but disinterested with their outcomes in life. They have one month before they adopt a damaged cat from a shelter (a decision that is never explained or warranted) to do whatever they want. For some reason they both quit their jobs and try falling into habits and causes. It doesn't come easy, and they both drift apart, which is something I generally like about the film. I love that they try to explore the world around them and actually make an effort in changing themselves and find that only trying without passion, or experiencing the world isn't the thrill ride they expected. What I ended up having problems with were the choices made to wrap up the existential conflicts that both characters evidently come to. Instead of really speaking about what happens after the bubble bursts, July goes very formulaic by breaking them apart and developing a side relationship, which was intentionally uncomfortable but also clichéd. The flighty, dispassionate artistry to some of the dialogue is distracting, as is a puppet cat. The cat tells the story of how they adopted it and would be coming back, which happens intermittently in most annoying way possible. I did like the very end of the cat and how it told of how it was unloved but always waiting. Still, this film left me exhausted and annoyed without any explanation for why it did what it did. July needs to not make commercial films and make films that speak to human nature preferably.
Spencer S.
Super Reviewer
½
In one way we should envy the caveman. When he looked at all the possibilities of his life, there couldn't be many, and he may have been content with he and his family just surviving, day by day. Today, in deciding life's journey, that nearly identical caveman has to wrestle all the possibilities and abstractions of developed language, ideologies, and technology. Reason has defeated religious portrayals of a purpose beyond this life - we can easily panic over our limited time here. How do we spend this time? How do we know when we have seen the answer? When we stop asking the question. Every scene in this film is making an observation - not a statement, just observations of feelings born from self awareness in the modern age. I've responded to only one here, kick-starting the open discussion this movie is begging to have with me. It will continue, and I suggest any philosopher to initiate their own with this wonderful movie.
Matthew Slaven
Super Reviewer
The Future Quotes
There are no approved quotes yet for this movie.