The Funhouse
(1981)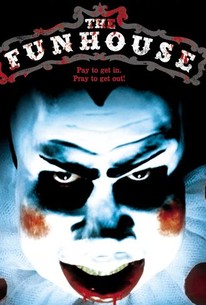 Movie Info
This low-budget horror film about teenagers trapped in a carnival funhouse with a freakish monster is pretty standard stuff. Director Tobe Hooper manages a few shocks and includes some typically peculiar supporting characters, but this film is less entertaining than either of his previous excursions into such territory. Not as scary as The Texas Chainsaw Massacre (1974) nor as bizarre as Eaten Alive (1976), The Funhouse may as well have been directed by an anonymous hack as one of the foremost names in the genre. The movie tie-in novel, penned by Dean R. Koontz under the pseudonym "Owen West," is actually far more frightening than the film on which it was based. ~ Robert Firsching, Rovi
News & Interviews for The Funhouse
Critic Reviews for The Funhouse
Audience Reviews for The Funhouse
½
Here is a lousy horror movie that doesn't manage to be tense, scary or even creepy, being just slow, dull and mostly uneventful - and the most ironic (or pathetic, actually) is that it gets even worse and dumber when things finally start to happen, with only thirty minutes left.
Carlos Magalhães
Super Reviewer
½
To label the first half of the listless dud The Funhouse phlegmatic is an insult to mucus. It crawls on its hands and knees to a creature feature. It's what Roger Ebert coined a Dead Teenager Movie with a slice-of-life focus on the park's attractions. The most eerie sights are a two-headed cow and another with a cleft palette. Finally, after an interminable uphill battle of pot smoking, peep-show voyeurism and exhibitionist sex, it shifts gears to a slasher film with a "freak". Unfortunately, the critter is a lanky albino bat without a backbone. There is nothing more flagrantly idiotic for a movie villain than humanization and then abject humiliation when the deformed Gunther Straker (Wayne Doba) basically cowers and mewls for the majority. When Gunther is henpecked and harangued by his father for his violent temptations, Tobe Hooper duplicates the askew nuclear-family dynamics of Texas Chainsaw Massacre. For such a declawed R-rating and harmless tonality, the hatchet-in-the-head overkill of one character and flaunting nudity of Amy Harper (Elizabeth Berridge) are jarring to the audience's sensibilities. The rationale behind Kevin Conway as the three carnival barkers is not nonsensical, it's completely nonexistent. Amy's brother's infiltration of the roving fair is a shaggy dog story that proceeds to no outlet. It hints at child-in-peril exploitation and quickly abandons those dubious plans. The Psycho shower scene with the Dario Argento killer-with-black-gloves trope is futile because it is a thrifty excuse for breasts and a jump scare. It might be faintly better than Eaten Alive but a calamity like The Funhouse still postulates the question what happened to the guerilla mastermind behind Texas Chainsaw Massacre?
Cory Taylor
Super Reviewer
I'm just going to be honest here up front and say that I've never really been a fan of Tobe Hooper. Outside of The Texas Chainsaw Massacre, his work has been spotty and lackluster. Such is the case with The Funhouse. I do praise the score for the movie, even though it's overused, and the design of the monster's mask, but other than that, there's nothing really spectacular about this one. Paying homages to Psycho and Halloween in the opening minutes didn't really help it much either. Sub-standard horror film fodder with plot threads and ideas that go nowhere fast, I don't really understand how this broken plot got put into production. I suppose the dolls and the animatronic characters in the movie would frighten some people, or even creep them out, but that stuff doesn't really work on me. This had potential, but it's such a slow build-up to essentially nothing.
Tim Salmons
Super Reviewer
The Funhouse Quotes
There are no approved quotes yet for this movie.