The Freshman (College Days)
(1925)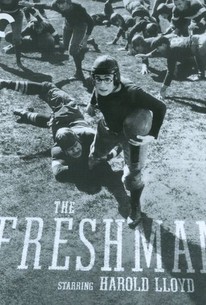 The Freshman (College Days) Photos
Movie Info
One of Harold Lloyd's best feature-length comedies, The Freshman, features the bespectacled regular guy as Harold Lamb, a naïve young man who heads off to college believing campus life will be just as it is in the movies; he even learns a little dance he saw one of his favorite actors do in a film. However, Harold soon discovers that real life isn't all that much like the pictures, and he quickly becomes the laughing stock of the university. Determined to prove himself, Harold tries out for the football team, but he serves as water boy and rides the pine until he finally gets a chance to redeem himself at the big game. Along the way, Harold also tries to woo a lovely co-ed, Peggy (Jobyna Ralston). 22 years later, writer/director Preston Sturges used the climactic football game as the opening for his collaboration with Harold Lloyd, The Sin of Harold Diddlebock.
Critic Reviews for The Freshman (College Days)
Audience Reviews for The Freshman (College Days)
Great fun in this silent college comedy. I have yet to see Buster Keaton's entry in this subgenre, College. I have seen Clara Bow's 1920's college set The Wild Party. Harold Lloyd is at his peak in this type of nerdy role. It is quite enjoyable to time travel to American college life in the Jazz age. Lloyd is nearly as great as Keaton and Chaplin with the physicality of slapstick. The football practice and big game are the central showcases of slapstick here of course. Right up to the 90's with Adam Sandler's The Waterboy many of the same character types have been repeated over and over again in Hollywood college set comedies.
Byron Brubaker
Super Reviewer
½
Harold Lloyd is his awkward, lovable self in â~The Freshmanâ(TM), where he goes off to college seeking popularity. Heâ(TM)s mostly mocked without realizing it, and after trying out for the football team, is used as a tackling dummy in practice and then as a water boy during the game, though of course thinks he may go in at any time. He hosts a big dance, the â~Fall Frolicâ(TM), but has his ill-tailored suit falls apart as he tries to move around. There are few laugh out loud moments, even if the filmâ(TM)s heart is in the right place, and some of the scenes go on for just a little too long. Seeing football played so long ago, even comically, with those thin leather helmets and that puffier ball, and finding out the crowd scenes were shot at halftime during the 1924 â~Big Gameâ(TM) between Cal and Stanford, was also personally interesting. That move where he unlaces the ball is pretty cool too. Lastly, and this is kind of a quirky thing of mine, but I like how Lloyd gives us shots of objects or things in print in his films, in this case various books from the period, newspaper articles, and a crossword puzzle he notices Jobyna Ralston doing on a train and tries to help her with. Even her final message to him is a handwritten note, and very sweet. Not quite as good as â~Safety Lastâ(TM) or â~Girl Shyâ(TM) from the previous two years, but solid entertainment.
Antonius Block
Super Reviewer
A typical college comedy for the 20s, and the plot is predictable, but Lloyd makes this movie enjoyable and entertaining. He really is hilarious in all his mishaps in this movie. I really enjoyed it, and I recommend it.
The Freshman (College Days) Quotes
There are no approved quotes yet for this movie.