The Force
(2017)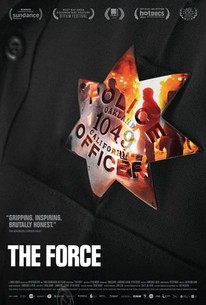 Movie Info
At a powderkeg moment in American policing, The Force goes deep inside the embattled Oakland Police Department as it struggles to reform itself amid growing local controversy. Winner of the Documentary Directing Award at the 2017 Sundance Film Festival, filmmaker Peter Nicks (The Waiting Room) embedded with the department over the course of two years to follow its serial efforts to recast itself. The film focuses on the new chief brought in to effect reform at the very moment the Black Lives Matter movement emerges to demand police accountability and racial justice both in Oakland and across the nation.
News & Interviews for The Force
Critic Reviews for The Force
Audience Reviews for The Force
'The Force' looks deeper into the real life drama and corruption of the Oklahoma Police Force, where a number of the controversial murders took place and the inception of the 'Black Lives Matter' movement. Capturing a lot of camera footage on the time and place these events occurred helps the viewers understand the general conflict the people as well as the city council have the force. For the most part, it almost feels like a real life drama for the sake of the film being an investigation on the reporting and independent journalism and for the most part that works. However, the lack of conventional interviews makes the documentary feel lackluster in offering counterproductive POVs up close or personal to ensure any compelling arguments that's happened over the past 3-4 years. The film itself is just, 'fine' for that matter, well made, edited, shot and it very eye opening into a modern central conflict between police force and general public that's not only captured the nation but the entire world. Insightful for the most part, but also bleak and not enough personal intersections to gether everything up at the end.
Luke Eberhardt
Super Reviewer
The Force Quotes
There are no approved quotes yet for this movie.