The Finest Hours
(2016)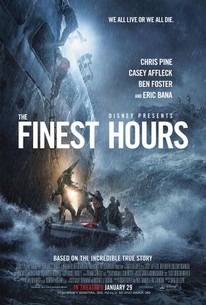 TOMATOMETER
AUDIENCE SCORE
Critic Consensus: Old-fashioned to a fault, The Finest Hours will satisfy those seeking a traditional rescue drama - but may leave more adventurous viewers wanting more.
Movie Info
Casey Sherman and Michael J. Tougias' book detailing a daring 1952 Coast Guard rescue off the New England seaboard comes to the screen in this Disney film produced by Jim Whitaker (Take Me Home Tonight, The Odd Life of Timothy Green). James Tamasy and Eric Johnson team to pen the screenplay. ~ Jason Buchanan, Rovi
News & Interviews for The Finest Hours
Critic Reviews for The Finest Hours
Audience Reviews for The Finest Hours
½
Based on the true story in 1952, The Finest Hours is about a US Coastguard station being deployed in an attempt to save a crew of an oil tanker that has split into two. The genre of biographical disaster movies is slowly becoming more saturated, particularly those with a serious perspective. The difference this time is that Disney has taken charge of the production which meant this film turned out to be an old-fashioned rescue drama that I thought was much needed. Firstly the cast was good, it was varied from veterans such as Eric Bana and Casey Affleck to more mainstream actors including Chris Pine and Ben Foster. Thankfully this film does not thrive of great performances, it is a visual story and director Craig Gillespie (Million Dollar Arm) knew this, hence the focus on great weather visuals and the destruction of the oil tanker. Pleasant effects but a few fully rendered human characters did not look great and did take away from the realism slightly. The story was very old-fashioned and I found that refreshing especially in 2016 where films try to be different for the sake of it. At the core, it's all about heroism and braving nature when the odds are against you, essentially human persistence and determination into saving other lives. The production design was great, the period setting of 1952 was well lifted. The beginning was standard character introductions, the middle was the rescue mission and the ending was the attempt at getting back in time. All of this being intertwined with a love story. That is where the problem lies, it is very mechanical and predictable. We have probably come to expect this from a Disney production but whilst I personally felt this was a good choice, some might be left wanting more. I mean it is nothing new, it's just a standard rescue story yet it's handled with such care that it is hard not to appreciate. The soundtrack was also well integrated, very traditional and reminded me of films from the 80's and 90's. The credits was a noteworthy part of the film in the fact that they show the photos of the crew and the coastguard station from 1952, definitely brings the additional realism that the film requires. Overall, The Finest Hours was a fine rescue drama with great visuals and a hearty story about heroism, although the old-fashioned pacing may leave viewers wanting more. - Review at: http://www.themoviediorama.com
Luke Andrews
Super Reviewer
½
Despite great special effects, the script is a wreck and the talented cast give completely underwhelming performances. Drowning in silly Disney naivety and sentimentality, this project should have been scuttled before it ran aground on the big screen.
Christian C
Super Reviewer
Everyone does their best "quiet and unassuming" in this Disney heroic family paean to whitebread. Within those limits, and using that crazy CGI tech to simulate kra-kra-crazy waterworks, a simple story, simply told. Nothing offensive here (excepting the idea of hiding in plain sight that yer being offensive), move along, move along. I enjoyed the actors, especially Bana, working their accents.
Kevin M. Williams
Super Reviewer
The Finest Hours Quotes
There are no approved quotes yet for this movie.