The Ewok Adventure
(1984)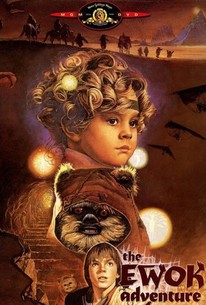 The Ewok Adventure Photos
Movie Info
At this late date, it should hardly be necessary to inform viewers that The Ewok Adventure was inspired by those fuzzy little space muppets seen in the 1983 Star Wars sequel Return of the Jedi. This costly made-for-TV film was executive-produced by George Lucas, with special effects provided by Industrial Light and Magic. It was first telecast with great fanfare November 25, 1984; its soundtrack was simulcast on regional FM radio stations to provide a "full stereo" effect. The plot (frankly the least fascinating element of this project) concerns two young kids searching through space for their missing parents. The kids wind up on the forest moon of Endor, where dwell the courageous little Ewoks, commandeered by Wicket (Warwick Davis). The winner of an Emmy Award for Outstanding Children's Program (though not necessarily aimed exclusively at kids), Ewok Adventure was released theatrically as Caravan of Courage. It was followed in 1986 by a TV-movie sequel, Ewoks: The Battle for Endor, and by a Saturday-morning cartoon series.
Critic Reviews for The Ewok Adventure
Audience Reviews for The Ewok Adventure
So back in 84 if you had seen Lucas and some Ewoks running around the redwood forests in California you could of been mistaken for thinking another Star Wars epic was on the way. No matter how badly we 80's kids prayed that was unfortunately not true, but we did get a semi decent Star Wars based adventure. Set in between 'Empire' and 'Jedi' this film gives us a little more insight into the forest moon of the gas giant Endor. We see more native creatures, more of the moon and of course more Ewok culture. Now back in the day this film was actually regarded pretty highly, mainly because we had NOTHING else film wise based around Star Wars. Upon a re watch the film still does hold its own very well. Lucas was in charge for both of these Ewok films and to be honest he did a fair job. The film is completely for kids obviously utilizing little human kids and good old 'Wicket' so you can't moan at the utter campy naffness there is. Acting is dubious and dialog is very basic, but you gotta give credit to Lucas for making a lot of the film in native Ewok tongue and having a narrator tell us the audience what the the hell going on. Almost like 'Dances with Wolves' for Star Wars hehe...I said almost. So the rather annoying surly 'Mace' and his totally babyish blonde barbie doll little sister head off to rescue their parents from the 'Gorax'. A creature I have found out has been worked into the official Star Wars universe and is cannon, kinda cool. Along the way the team of kiddies and Ewoks run into other species that are of course nasty and generally have to work together to succeed. There are some nice creatures here, basic puppets, animation or stop motion, but its fine, kinda charming much like the old Harryhausen flicks and other old barbarian fantasy films. The film has that warm 80's 'Willow' type atmosphere, a sense of wonder and imagination that is absolutely great for young kids. The main bad guy in the film is the 'Gorax' which is a man in a suit get up. The makeup is pretty good on this character and his whole look does fit with the 'wookie' species approach for the Endor moon. In general effects aren't overly great these days (of course), the giant spider in the 'Gorax' lair is brilliantly bad and the final fatal moment for the 'Gorax' also looks really hokey, but hey this ain't no mega budget film. Some nice good old fashioned matte painting work evident too. Yes its childish and corny, yes some locations on Endor's moon looks suspiciously like California, yes the two main human kid characters are completely generic looking with 'Mace' obviously looking like a young 'Luke', but its still fun. Lucas did a good job here in my opinion, the film is perfect for its target audience and fun for everyone else too...if you like Star Wars. Supposedly cannon within the Star Wars universe also which is interesting.
Phil Hubbs
Super Reviewer
½
I thought it was fun and fairly well done for a t.v. movie. Sure, it's nowhere near the magic that makes Star Wars, but for the purpose it serves it's decent. I actually enjoyed the Ewoks in this and they gave them some actual personality, as opposed to being crazy teddy bears in ROTJ.
Conner Rainwater
Super Reviewer
The Ewok Adventure Quotes
There are no approved quotes yet for this movie.