The English Surgeon
(2009)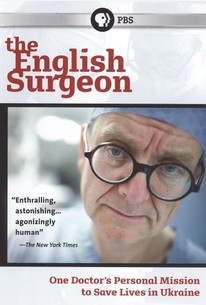 The English Surgeon Photos
Movie Info
"The English Surgeon" is the true-life tale of Henry Marsh, a London neurosurgeon who travels to Ukraine to treat desperate patients with no access to modern medical facilities. Marsh is one of London's foremost brain surgeons, a phlegmatic, philosophical man with no illusions about the nature of his work. On a trip to Kiev to give a lecture in 1992, Marsh was shocked to witness the plight of those with severe neurological problems there -- a ghastly world of primitive clinics, Kafkaesque bureaucracy, and medieval surgery - and began making regular trips back to diagnose patients and perform operations whenever possible. Award-winning filmmaker Geoffrey Smith followed Marsh on one of these trips in 2007, plunging into the chaos of the quest to see and save as many patients as possible. As the Ukrainian winter whirls around them, Marsh and his maverick Ukrainian counterpart, neurosurgeon Igor Kurilets, work around the clock to get through the endless lines of people who look upon Marsh as their last hope.
News & Interviews for The English Surgeon
Critic Reviews for The English Surgeon
Audience Reviews for The English Surgeon
½
While doctors don't make house calls anymore, Dr. James Marsh, a neurosurgeon, travels to the Ukraine to see patients in "The English Surgeon," a documentary that is more emotional than informative.(Admittedly, I now know more about brain surgery than I really wanted to know.) In focusing on a single patient who has to travel 400 kilometers to Kiev to see Dr. Marsh about his brain tumor that has been causing epileptic seizures, the movie seeks to shed light on the dreadful state of healthcare in the former Soviet republic. Marsh who has been going there since 1992 is told that his contributions are only a drop in the bucket but it soon becomes clear that relatively minor improvements can do wonders, especially concerning early detection, as he donates any old equipment which is not nailed down. Even while providing hope, he still agonizes over an old case involving a child. At the same time, he admits neurosurgery is tricky in trying to figure out when exactly to operate.
½
As real as it gets. Henry Marsh visits the Ukraine and discovers that they could use his area of expertise. That commences frequent journies to treat the worst of the worst brain conditions. A heart braking example of how arbitrary bad fortune is.
John Ballantine
Super Reviewer
The English Surgeon Quotes
There are no approved quotes yet for this movie.