The Edge of Heaven (Auf der anderen seite)
(2007)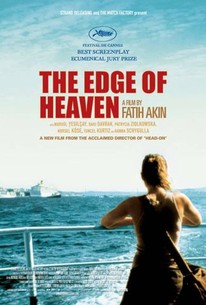 TOMATOMETER
AUDIENCE SCORE
Critic Consensus: Evocative and complex, this story of struggling immigrants in Germany will stay with you after you leave the theater.
The Edge of Heaven (Auf der anderen seite) Photos
Movie Info
Fatih Akin's second feature, the drama The Edge of Heaven, concerns a man named Ali and his son, a German teacher, who decide to move in with Yeter, a prostitute who sells her body in order to help pay for her daughter's college education. The father begins to care for Yeter, causing friction between himself and his son.
News & Interviews for The Edge of Heaven (Auf der anderen seite)
Critic Reviews for The Edge of Heaven (Auf der anderen seite)
Audience Reviews for The Edge of Heaven (Auf der anderen seite)
[size=3]"The Edge of Heaven" is a magical film that must be seen. It didn't receive a strong distribution deal in the United States (big surprise), so it will take effort to find it. But it is so worth the work. [/size] [img]http://images.teamsugar.com/files/upl0/1/17989/14_2008/heaven.jpg[/img] [size=3]Germano-Turkish writer/ director [b]Faith Akin [/b]is one of the true greats. He and Joachim Trier ("Reprise") are the two most exciting young filmmakers in Europe today (one born in 1973, the other in 1974). "Edge of Heaven" sneaks up on you. It starts out matter-of-factly and slowly builds. Its superb sense of cinematic rhythm is a throwback to the age of Ingmar Bergman. The film gradually gathers emotional power until it bursts like a storm cloud. The last 20 minutes contain some of the most moving images of redemption and grace as you are likely ever to see in the cinema.[/size] [size=3]"The Edge of Heaven" is the third-best film I've seen so far this year and is a must-see for anyone who cares about art. Immense thanks to Strand Releasing for getting this film into at least a few American movie theaters. What a terrifying statement about the current climate in America that a film of this quality can only find a distribution deal from the (heroic) micro-mini outfit Strand. Cinephiles all around the world are talking about this film, and America is barely interested.[/size] [size=3]The film opens in Germany, where we meet an elderly working-class man of Turkish descent and his highly educated son, who is a professor of German Literature. Both are single and lead a quiet life together.[/size] [size=3][img]http://www.brisbanetimes.com.au/ffximage/2008/04/24/edge_of_heaven_wideweb__470x312,0.jpg[/img][/size] [size=3]The older man frequents a Turkish-born prostitute, who eventually becomes his live-in companion. The son quickly develops a deep respect for this woman, who was forced to abandon her daughter in Turkey and has struggled mightily to keep herself out of poverty in a foreign country and without education.[/size] [size=3]A terrible accident occurs, the details of which I won't reveal, and the young professor begins a fascinating journey back to his homeland. This journey involves a search for the prostitute's daughter, whom we get to know as well. She is involved in radical politics in Turkey and becomes a fugitive, escaping to Germany to try to find her mother. [/size] [size=3][img]http://www.bfi.org.uk/whatson/lff/files/images/edge_of_heaven_01.jpg[/img][/size] [size=3]In Germany, she falls in love with a young German woman, and we get to know this woman and her mother as well. The mother is played by legendary German actress [b]Hanna Schygulla[/b], who was Rainer Werner Fassbiner's muse, appearing in almost 25 of his films. [/size] [size=3]Casting Schygulla, who does a remarkable job in "Edge of Heaven," was a perfect way for Akin to pay tribute to the New German Cinema that Fassbinder and Schygulla launched in the 1970s.[/size] [img]http://cache.thephoenix.com/secure/uploadedImages/The_Phoenix/Movies/Reviews/The_Edge_of_Heaven4_inside.jpg[/img] [size=3]"Edge of Heaven" is a film about suffering, poverty, overcoming, and forgiveness. Every character left standing at the end of the film (there is a considerable amount of violence) bears some blame and must be forgiven for something. Watching these characters wrestle with grudges and grace is tonic for the soul. [/size] [img]http://tiff07.ca/images/films2007/705291553291386.jpg[/img]
William Dunmyer
Super Reviewer
Gorgeously shot tale with sumptuous locations and a pleasing symmetry to the narrative. A variety of atypical actors and scenarios give it a real freshness.
Gordon Anderson
Super Reviewer
½
Beautiful! Beautiful! Beautiful! One of the highlights for me of last year's Film Festival. Relationships...the ones we choose and the ones we fall into.
John Ballantine
Super Reviewer
The Edge of Heaven (Auf der anderen seite) Quotes
There are no approved quotes yet for this movie.