The Eagle Huntress
(2016)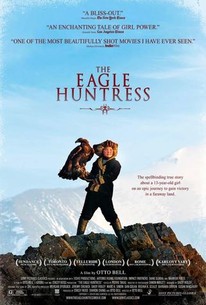 TOMATOMETER
AUDIENCE SCORE
Critic Consensus: Effectively stirring and bolstered by thrilling visuals, The Eagle Huntress uses its heartwarming message to fill up a feature that might have made for an even more powerful short film.
The Eagle Huntress Videos
The Eagle Huntress Photos
Movie Info
THE EAGLE HUNTRESS follows Aisholpan, a 13-year-old girl, as she trains to become the first female in twelve generations of her Kazakh family to become an eagle hunter, and rises to the pinnacle of a tradition that has been handed down from father to son for centuries. Set against the breath-taking expanse of the Mongolian steppe, THE EAGLE HUNTRESS features some of the most awe-inspiring cinematography ever captured in a documentary, giving this intimate tale of a young girl's quest the dramatic force of an epic narrative film. While there are many old Kazakh eagle hunters who vehemently reject the idea of any female taking part in their ancient tradition, Aisholpan's father Nurgaiv believes that a girl can do anything a boy can, as long as she's determined. The story begins after Aisholpan has been training with her father's eagle for many months. As every eagle can only have one master, the time has come for Aisholpan to capture an eagle of her own. Clambering down a sheer rock cliff with a rope, Aisholpan retrieves a fledgling eagle from its nest as its mother circles overhead. Her eagle will live, train, and hunt with her, until she releases it into the wild years later, so the cycle of life can continue. After months of training her eagle with her father, Aisholpan is ready to test her abilities. She enters a renowned competition, the Golden Eagle Festival, and faces off against 70 of the greatest Kazakh eagle hunters in Mongolia. The most arduous challenge is yet to come, as the rite-of-passage for every young eagle hunter is to take part in a hunt. Aisholpan must ride with her father deep into the frigid mountains and endure 40 below zero temperatures and perilous landscapes to prove she is a true eagle huntress. THE EAGLE HUNTRESS is executive produced and narrated by STAR WARS's Daisy Ridley. Like Ridley's character "Rey," Aisholpan never doubts her ability to be as strong or brave as any boy. She recognizes no obstacles and refuses to have her ambition denied. While she practices an ancient art, Aisholpan's story is a modern and inspiring one because she represents a world where a young girl's dreams-no matter how challenging-can come true. Directed by Otto Bell, THE EAGLE HUNTRESS is narrated by Daisy Ridley, executive produced by Ridley, Morgan Spurlock and Jeremy Chilnick, and produced by Stacy Reiss, Sharon Chang and Otto Bell. The director of photography is Simon Niblett, the editor is Pierre Takal and the film features a stirring end credits song, "Angel by the Wings," by Sia.
News & Interviews for The Eagle Huntress
Critic Reviews for The Eagle Huntress
Audience Reviews for The Eagle Huntress
I'll start by saying the cinematography by Simon Niblett is extraordinary. The scenery is gorgeous to begin with, sure, but it takes real skill to capture the shots he did, and that's what first and foremost makes this a film well worth seeing. The storytelling and pace from Director Otto Bell is also engaging, and it's such a unique tale. And who can forget the heartwarming relationship Aisholpan Nurgaiv has with her father Rys, both playing themselves? They are amazing people. There is a feminist message that is empowering to girls here, and it's a movie suitable for all ages. The film did take some heat for being described as a documentary, and while it's based on true events, it feels staged in portions and is a story told after the fact. Some get quite bent out of shape over that, and to them I would just say get over it and enjoy it for what it is - a beautiful movie.
Antonius Block
Super Reviewer
½
Magical, funny, moving and uplifting doc with images that will be etched into my brain for weeks.
Daniel Parsons
Super Reviewer
The Eagle Huntress Quotes
There are no approved quotes yet for this movie.