The Double
(2011)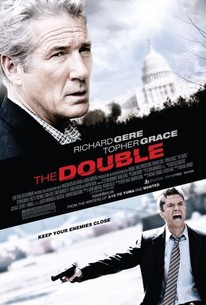 Movie Info
In The Double, the mysterious murder of a US senator bearing the distinctive trademark of the legendary Soviet assassin "Cassius," forces Paul Shepherdson (Richard Gere), a retired CIA operative, to team with rookie FBI agent, Ben Geary (Topher Grace), to solve the crime. Having spent his career chasing Cassius, Shepherdson is convinced his nemesis is long dead, but is pushed to take on the case by his former supervisor, Tom Highland (Martin Sheen). Meanwhile, Agent Geary, who wrote his Master's thesis on Shepherdson's pursuit of the Soviet killer, is certain that Cassius has resurfaced. As Shepherdson and Geary work their way through crimes both past and present, they discover that Cassius may not be the person they always thought him to be, forcing both to re-examine everything and everyone around them. -- (C) Image
News & Interviews for The Double
Critic Reviews for The Double
Audience Reviews for The Double
Well, a movie with Richard Gere that I didn't like too much. It was passable, due to the quality of the actors. The storyline, however, just didn't seem to sit well with me. Plus, for them to give away the murderer right in the beginning was a big mistake, in my opinion....
Cynthia S.
Super Reviewer
Martin Miller: This guy has used every kind of weapon you can think of. From an M-4 at 12 hundred meters, to a rusty nail.  "Keep Your Enemies Close" The Double is a film of good intentions, but in the end I was left wondering... Does writer/director Michael Brandt actually think this is smart or does he know how truly amateurish and by the numbers this whole film is? I'll admit that The Double is watchable. I had no problem sitting through the film, despite just how bad it is. It's got every standard scene and every standard plot device. It unfolds like a puzzle you've done a thousand times. You can piece it together with your eyes closed. When the twist comes at the end, it's just laughable. When a state senator is killed in the fashion of a famous Russian assassin who was thought to be dead; retired CIA agent Paul Shepherdson is brought in. He was on this assassins trail for years, but could never bring him in. Paul is adamant that the killing can't be Cassius because he believes Cassius to be dead. An up and coming, young FBI agent thinks differently. He wrote his thesis on Cassius and believes that this is his work. The two are teamed up to figure everything out.  There's not really too much to say about The Double. It's a movie that wants to appear like an original and well thought out thriller, but all it is is a rehash of other movies. There's little excitement to be had here because of the predictability and lack of real substance. There are a million plot holes, loose ends aren't tied up, and the whole affair seems kind of lazy. The nicest thing I can say about it, is that it was watchable. But even garbage can sometimes be watchable.
Melvin White
Super Reviewer
The Double Quotes
There are no approved quotes yet for this movie.