The Discovery
(2017)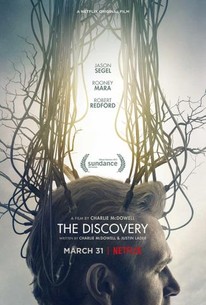 TOMATOMETER
AUDIENCE SCORE
Critic Consensus: The Discovery looks fascinating on paper, but in spite of its thought-provoking premise and starry ensemble, it's a disappointing case of untapped potential.
Movie Info
In the near future, the world is off-balance. People have gained a specific knowledge, and death has lost meaning, due to a breakthrough scientific discovery by Dr. Thomas Harbor (Robert Redford): There is now definitive proof of an afterlife. While countless people have chosen suicide in order to "re-set" their existence, others go on, trying to decide what it all means. Among them is Dr. Harbor's son Will (Jason Segel), who has arrived at his father's isolated compound with a mysterious young woman named Isla (Rooney Mara). There, they discover the strange acolytes who help Dr. Harbor with his experiments. They are all looking to Dr. Harbor for meaning. Can Will and Isla find peace - in this place, or on the other side?
Critic Reviews for The Discovery
Audience Reviews for The Discovery
Fans of the old Twilight Zone teevee series might enjoy this ramble through the woods of dreamstate as a scientist and his sons try to solve the question of whether there's an afterlife or no. Nearly English in feel, it takes it's time getting to the payoff, and that might be a problem for some, but there's definitely something going on here.
Kevin M. Williams
Super Reviewer
½
I don't think Charlie Kaufman will be losing sleep over this one. Charlie McDowel's latest film "The Discovery" is an earnest attempt to capture the reveries and nightmares common to Kaufman's ouevre. Despite a strong cast and an intriguing sci-fi premise, the resultant picture is a valiant but boring effort. In the near future, the existence of an afterlife has been scientifically proven somehow (but not really expounded upon). We are are simply told the evidence is "overwhelming". This is enough to provoke millions of people to commit suicide to "get there". The mystery of the premise makes for some good tension to incentivize sitting through the banal romance that occupies much of the movie's focus. The deeper ruminations on faith, science, and consciousness always take a back seat to Jason Segal and Rooney Mara's mumbly, perfunctory relationship. Nicholas Hoult was originally cast in Segal's role, and I've no doubt that his would have been a preferable performance. But neither could have made up for the clinically unnatural sounding dialogue that drags down an otherwise great casts' performances - especially Robert Redford's. Finally, the last act is a rushed, Cliff's notes explanation of how and why the afterlife works and how the two leads fit into it. If you'd like a vague echo of "Eternal Sunshine of the Spotless Mind", here you go. I can appreciate it on a technical level for its effective use of tension and practical, minimalist sci-fi world building, but it drops the intellectual ball in favor of emotionless romance and hackneyed sentimentality.
K Nife Churchkey
Super Reviewer
½
DO YOU BELIEVE IN LIFE AFTER LIFE? - My Review of THE DISCOVERY (3 1/2 Stars) Director Charlie McDowell (son of Mary Steenburgen and Malcolm McDowell) and his co-writer, Justin Lader favor a low key approach to science fiction. Their first feature, THE ONE I LOVE, explored the concept of a parallel universe but limited it to an isolated "enchanted cottage". Elizabeth Moss and Mark Duplass brought an air of charm and mystery to their performances which culminated in an ambiguous final moment. Three years later, they've brought us THE DISCOVERY, a feature coming to Netflix on March 31st, and despite its somewhat wider scope, they've kept their storytelling intimate. It's a distinguishing yet intentionally drab approach to filmmaking, and your enjoyment of it will depend on your taste for a lack of spectacle. ARRIVAL, with its quiet beauty, trafficked in a similar aesthetic although it feels hugely epic when stacked up against this film. THE DISCOVERY opens with a stunning sequence in which Thomas Harbor (Robert Redford), a reclusive scientist, sits down for a first time interview with Steenburgen since proving the existence of an afterlife. In a beautifully realized exploration of this concept, we learn that his findings have led to millions of worldwide suicides. Why continue living a miserable life if something better lies ahead? Harbor, pardon the pun, harbors no guilt over this turn of events. The scene immerses you instantly into its world, one that looks very much like the one we currently inhabit, and takes its ideas to a shocking place. Immediately after, we're on a nearly empty ferry headed to Rhode Island. Harbor's son Will (Jason Segel) wants to put an end to his father's experimentations and cult-like atmosphere on his secluded compound. On the boat, he meets Isla (Rooney Mara), a prickly, anti-social sort who leaves a lasting impression on Will before going their separate ways. It should come as no surprise that their lives will intersect again. I mean, it's Rooney Mara. She doesn't show up for one scene boat cameos at this stage of her career! Once reunited with his father, Will becomes invested in discovering the truth behind this afterlife his father has identified. Is it another plane of existence? Is it Heaven? Hell? Or something else entirely? Much like Amy Adams experienced in ARRIVAL, the film plays with the concepts of a linear timeline, fate, and how they affect Will and his father's decisions. As such, THE DISCOVERY asks the big questions but keeps things small. McDowell and Lader again operate in a limited space and relish ambiguity. At the screening I attended, the filmmakers said they wanted Harbor to have the credibility a star like Redford brings to the role or else it could have felt like a mad scientist, Doc Brown kind of performance. I agree, but I found Redford's sane approach to his character a little flat and expositional at times. Regardless, it went a long way towards making me believe in the concept. Although he's a good physical match to play Redford's son, Segel's performance also feels a little undercooked. I appreciated the clinical nature of the writing and acting, but I didn't get a case of "the feels". Only Mara managed to move me with her mercurial performance. It's a tough choice to sacrifice heart and soul when trying to create a believable universe, and THE DISCOVERY mostly works within this framework. It goes for the jugular in the final act, but stimulated my brain more than my tear ducts. ARRIVAL managed to get both going for me while exploring similar themes. With a muted overall look and quiet confidence, THE DISCOVERY will appeal to fans of Brit Marling's ANOTHER EARTH or THE OA, both of which ground their science fiction in a gritty reality. It's a little dull, but has a certain water cooler appeal. There are worse things to do than argue afterwards about suicide, faith, and the universal wish for a redo of one's life.
Glenn Gaylord
Super Reviewer
The Discovery Quotes
There are no approved quotes yet for this movie.