The Disappointments Room
(2016)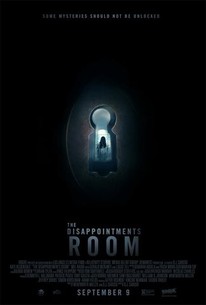 TOMATOMETER
AUDIENCE SCORE
Critic Consensus: The Disappointments Room lives down to its title with a thrill-free thriller that presumably left its stars filled with regret - and threatens to do the same for audiences.
The Disappointments Room Videos
The Disappointments Room Photos
Movie Info
In this psychological thriller from the director of Eagle Eye and Disturbia, Dana and David move from Brooklyn to a once-grand southern mansion with their 5 year old son looking for a fresh start. But Dana's discovery of a secret room unleashes unexplainable events that test her sanity and slowly reveal the home's terrifying past.
News & Interviews for The Disappointments Room
Critic Reviews for The Disappointments Room
Audience Reviews for The Disappointments Room
I disliked this movie so much I don't even recall the day I watched it, just a bad horror film. The film has a likable cast but the film is poorly developed and directed, you just want the credits to roll sooner than later. There are worse bad films around but this is disappointing when the trailer promised so much more. 14-10-2017.
Brendan O'Connor
Super Reviewer
½
Sometimes there's films that, really, I don't even know how to begin their review. It doesn't really connect to any point I want to make prior to the actual review itself nor do they really do anything outstanding that it makes reviewing them easy. Let's just get this out of the way, there's absolutely nothing that this movie does well. Absolutely nothing. I suppose you could say that Kate Beckinsale, despite having a poorly developed character, gives a solid performance. And that's certainly a very valid point, but Kate Beckinsale's performance exists outside of everything else that happens in the film. Kate is solid in spite of everything else that is happening around her. I get the film's concept and its inspiration in trying to tell this story. Kate is a mother whose baby died, in an accident, the year prior to the film's events. Dana (Beckinsale's character) is overcome with grief, understandably. The family then decides to move away from the hustle and bustle of the city to a more isolated house in the country so Dana, hopefully, can move on from the accident and get her life back on track. Dana, who's also an architect, decides to renovate the house as having a project might help her deal with her issues. Dana, while exploring her house, finds this room up in the attic that isn't in any of the blueprints and has a chifforobe in front of the entrance. The door, also, only locks from the outside. Dana has some strange experiences in this room, like being locked inside it and believing that she was trapped in there for hours. She tries to find out the history behind this room and is told that this room, called a disappointments room creatively enough, were built for children with special needs or deformities to be confined to. They would put this children in this room to keep them from embarrassing the rest of the family. Conceptually speaking, the film is somewhat intriguing. Like just from a basic point of view. If you were to tell me the basic idea of finding out what happened in this 'disappointment room' in the past and the dark story behind this room, then I would have though that that was a decent concept. It's not a great concept, and it's not really that different from other films that have explored similar subjects in places like insane asylums, but it could have been decent. Sadly, however, the film just wastes the idea. Firstly, this isn't really a horror movie. I'd complain about jump scares, but the fact is that there aren't any. There's a few scenes where you see figures walking in front of the camera, but I wouldn't call those scares. I would call that the set-up. Yet the scares never actually came. I get the idea behind focusing so much of the film on Dana's emotional and mental issues. It calls into question everything she says, even though she's telling the truth. But the film's insistence on focusing on that really leaves no room to develop an actually scary story about a father, whose shame of his daughter was so great, that he actually killed her with a hammer to the face. I think the film should have juxtaposed that with Dana's own issues, she feels like she's a terrible mother. And, maybe, the film was meant to juxtapose those two elements but, if they were, they did an awful job of it. They really fucking did. Characters are introduced to set up potential subplots that aren't actually ever paid off on. The acting is fine, but it doesn't really matter when the script they're servicing is so much of nothing. The narrative escalates to a point where Dana literally loses her shit at this dinner party, that just so happens to take place the same day that her daughter (the one who died) was born. She destroys everything around her, all the plates, vases, glasses, etc. A few minutes later, she goes into her son's room and she sees the father (the one who murdered his daughter) standing over her son's bed. She proceeds to take a hammer to this guy's face. When Dana's husband comes in, all he sees is Dana hammering a pillow right next to her son's body. The kid is obviously distraught. But David, the kid's father, manages to convince him that it was just a nightmare (this kid must be some sort of moron). Dana and David then have a conversation about what she's feeling and then they just leave the house. And that's how the movie ends. Really. Oh, of course, there's the typical 'it's not really over' bullshit. But, since they've already left the house, it's not like it matters. Talk about an anticlimactic ending. All that "story" for, literally, an ending that gives you next to no satisfaction. It felt flat like a motherfucker. So, yea, this movie was kind of bad. It's not really a horror movie, it lacks a plot that makes use of the various elements that are at play here, it doesn't really build to anything and the ending is completely anticlimactic. The acting may be decent, but there's no real reason to care about any of the characters. If it wasn't obvious, I cannot, in good conscience, recommend this movie. There's certainly worse films out there (like Sammo Hung's The Bodyguard, which I reviewed a few days ago), but this one just won't do anything for most of you. And for those of you that do find something to like here, please tell me who your weed supplier is.
Jesse Ortega
Super Reviewer
Seriously, who fucking edited this? When you pit a word like "Bad", "Weak" or in this case "Disappointment" in your film title, it's worth making sure that the movie doesn't actually suck, otherwise you're just asking to get roasted by the critics.
The Disappointments Room Quotes
There are no approved quotes yet for this movie.