The Diary Of A Teenage Girl
(2015)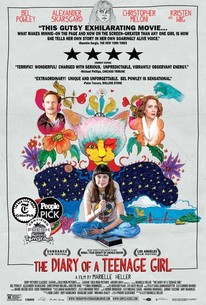 TOMATOMETER
AUDIENCE SCORE
Critic Consensus: Boldly unconventional and refreshingly honest, Diary of a Teenage Girl is a frank coming-of-age story that addresses its themes -- and its protagonist -- without judgment.
The Diary Of A Teenage Girl Videos
The Diary Of A Teenage Girl Photos
Movie Info
Like most teenage girls, Minnie Goetze (Bel Powley) is longing for love, acceptance and a sense of purpose in the world. Minnie begins a complex love affair with her mother's (Kristen Wiig) boyfriend, "the handsomest man in the world," Monroe Rutherford (Alexander Skarsgård). What follows is a sharp, funny and provocative account of one girl's sexual and artistic awakening, without judgment. (C) Sony Classics
News & Interviews for The Diary Of A Teenage Girl
Critic Reviews for The Diary Of A Teenage Girl
Audience Reviews for The Diary Of A Teenage Girl
½
Bold, direct and taking its teenage protagonist seriously through good and decisions, this is a refreshingly different take on a coming of age story. The acting is top notch, especially Powley creates a very unique character: Prudes will have a hard time with every second scene here, but everyone with a wild teenage hood or an open mind will certainly appreciate such an unusual look at what growing up looks like.
Familiar coming of age story with more cringeable moments than the usual and a few wtf's. I liked the art parts and though some of it was slightly disturbing, it was well done.
Nicki Marie
Super Reviewer
Based off the novel of the same name, written by Phoebe Gloeckner, "The Diary of a Teenage Girl" is a very offbeat indie film about an 18-year-old girl who loses her virginity to her mother's new boyfriend. If that already sounds hard to watch for you, then I can tell you right now, this film is absolutely not for you. There are times where even the biggest of cinema fans may feel slightly awkward while viewing this picture. This film follows Minnie, who is an extreme introvert who will take on any situation as it presents itself. As she has very virginity stripped away, she continues to do so, becoming the school slut and following a path that pretty much very viewer will be against. Having a plot like that is very ballsy, as there is really no levity here. Is this a good film? Yes it is, but I found myself almost disliking it more than actually enjoying what was being presented to me. At a mere 102 minutes, I found myself checking my watch many times, as the film dives too far into sexuality to really grasp what this character is going through. There are many times (although Bel Powley does a great job of portraying her) that Minnie becomes very whiny and annoying. Again, this has nothing to do with the portrayal of the character, but more of the character herself. I found myself disliking every time she was on screen, which is 95% of the film. Due to the fact that this film feels very gross and drab, the simple camerawork and subtle visuals were really what stood out to me. Having her thoughts told through animations around her was very unique and that was easily my favorite part about this film. I understand that many girls have probably gone through a phase like this, and few have probably even gone this far or further, but for this particular character, I did not buy the arc she went through, because it felt incomplete and that she still has a very dark/sexual future ahead of her. With a very abrupt ending that leaves you wishing you had more, even though I did not want to see anymore, "The Diary of a Teenage Girl" is a very uncomfortable film to watch, but a very well-made one. This film may have not been my cup of tea, but I found myself believing the actions of Monroe (Minnie's mothers boyfriend) to be the most realistic, even though he is easily one of the sleaziest characters in the film. Kristen Wiig delivers a surprisingly great performance, but aside from shock value, her character does not do much here. In the end, I found myself admiring this film the entire way through, but it is very uncomfortable to sit through. With interesting visuals, a great cast, and a plot that definitely does what it sets out to do, "The Diary of a Teenage Girl" is solid filmmaking, but nothing more in my opinion.
The Diary Of A Teenage Girl Quotes
There are no approved quotes yet for this movie.