The Devil's Candy
(2017)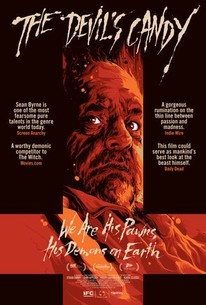 TOMATOMETER
AUDIENCE SCORE
Critic Consensus: The Devil's Candy playfully subverts horror tropes while serving up more than enough stylish thrills to satisfy genre enthusiasts.
Movie Info
An artist and his family think they've moved into the house of their dreams, but when he is possessed by a mysterious dark force the family must fight to save their souls.
News & Interviews for The Devil's Candy
Critic Reviews for The Devil's Candy
Audience Reviews for The Devil's Candy
What one earth this is doing with 92% is beyond me. It subverts absolutely nothing. It's just a bog-standard family-move-into-house-with-a-past yarn. Then a possessed nutcase comes after their daughter. The Satanic elements consist of some demonic muttering while the dad paints shitty album covers, and a crud-metal soundtrack that only Rob Zombie would approve. The third act is just the usual duct tape and women screaming incessantly, and then the house burns down. Unscary junk acted by reliable performers wasting their time.
Charles Brennan
Super Reviewer
You know, this is like my life story put to film. Lead character named Jesse? Check. This character is a metalhead? Check. Talented, but struggling, artist? Check. Has a wife and daughter named Astrid and Zooey? Check. Sees hellish visions of atrocities, which inspires him to paint some disturbing shit? Check, check, all the goddamn checks. Seriously though, there's only two of those that are actually correct. If you guessed the name (or lifelong nickname which I consider my name anyway in my case) and that I grew up a metalhead, then you are, in fact, correct and should probably give yourself a cookie or a pat on the back. Before I keep going on with this review, I think I should make mention of the fact that Ethan Embry has grown to be a pretty damn good actor. Maybe he always was and I just didn't see it until just recently, but this guy is really fucking good at what he does and playing a different variety of characters. Look, I'll completely honest with you guys, I haven't seen Get Out. Yes, I know, I know, I'm a terrible horror nerd, but I just haven't had the easiest of times lately, economically speaking, and I've cut down on stuff like Redbox rentals and shit like that. So I know that, until I watch Get Out, I shouldn't really make statements like this, but I'll be straightforward with you guys, I thought this was the best horror movie I've seen this entire year. I really do mean that, I thought this was a pretty damn great movie. This isn't necessarily the 'scariest' horror movie of the year, it's not like it's Paranormal Activity. It's not a movie that's full of jump scares, this is a film that gets its horror from the darkest recesses of humanity's mind. I will say that the film, obviously, takes a look at the very disturbed mind of a serial killer (Ray) who kills children, since Satan tells him that they're the sweetest candy. So, yea, it's a movie that deals with mental issues in a way that might be considered retrograde. But the fact of the matter is that there are people like this out there and I don't think the film ever makes a declarative statement that all people with mental illnesses are exactly like Ray, it's just this one example of a man with a very deranged mind who does unspeakable things to those most innocent in society. Jesse, his wife and daughter move to Ray's former house (where he murdered his parents before escaping, apparently). Jesse, a struggling painter, moves his family to the same house that Ray killed his parents in, though he's told a lie in that one death was accidental and the other was a suicide. The house, naturally, comes at a bargain as a result of this. So, this being a horror movie, of course they move into this house. What in the actual fuck could possibly go wrong with this scenario? As I mentioned, Jesse is a struggling painter who's doing commission work that he is absolutely, in no way, shape or form, passionate about. But a man has to do what he must to provide for his family. Anyway, this house has a barn that Jesse uses as his studio. There comes a certain point in the movie where he is compelled, by some outside forces to pain this upside down cross. He does not remember painting this after he's done. As this happens, you get to see Ray's journey back to his home, where he has been told, by Satan himself, to sacrifice Zooey for him. This doesn't happen quickly, naturally, Ray returns to his old home and talks with the new owners. Ray's strange behavior cause Jesse to tell Ray to leave them alone. After this happens (or maybe it's before) Jesse starts to paint a new, even more horrifyingly disturbing painting, which sees agonizing children in a hellish setting. One of the cooler scenes in the entire film sees Jesse painting this horrific painting, with close-ups of the canvas or where he puts his paint on, while Ray cleans up the aftermath of one of his murders, with close-ups of a mop cleaning up blood, bloodied bathtubs and floors. You don't see the murder itself, just the aftermath. And, to me, that might be one of the strongest elements about the movie. The more horrific stuff is left completely to the imagination. Ray, and this might be a bit of a spoiler for Flixster, hits this young boy with a rock and takes him to this motel to kill him. You don't actually get to see the murder, but the imagery they use tells the story completely. All you see is Ray wearing a black plastic bag, to prevent blood from going on him, going into the bathroom with a handsaw. And that's all they needed. A few scenes later, you get to see Ray come out of his car with a travelling bag and, again, that's all they need, since you know what was done to this poor kid. I'm not saying there's violence in the film, because there clearly is violence, but a lot of it is also very much implied. Well, I mean, cleaning up a bloodied bathroom isn't implying it, but what I mean is that they're not showing you the actual murders. But what I liked about the movie, as well, is the fact that the movie focuses on Jesse's failures as a father and as a husband to protect his family. There are several scenarios where Ray breaks into his house and sneaks into Zooey's bed and he starts talking to her. Jesse, however, is off in his barn working on his painting. There's another scenario where Jesse, completely distracted by his work, forgets to pick up his daughter at school until it is already way after dark. The way they go about this is very interesting, because it comes across as if Jesse is putting his career as a painter over the safety of his family. Perhaps it's not even purposeful, since he almost has no control over what he paints or when he paints. There's an interesting little subplot when Jesse hands an USB of some of his work to this art gallery that previous rejected him. The owner of the art gallery visits Jesse at his home and offers him a deal. The way the film presents it, it's obvious that the art gallery owner is a representation of a 'making a deal with the devil', as it were. Since taking this deal will bring Jesse the success he has always wanted, but it will bring it at the expense of his family. Jesse, naturally, rejects the deal and this is when the film, to me, heads into its climactic act, when Ray kidnaps Zooey after Jesse gets a flat tire on his way to pick up his daughter at school. The climax itself is tremendous, because it does manage to create a truly terrifying scenario. Ray is a tremendous villain in spite of the fact that he doesn't have a lot of conventional dialogue. Pruitt Taylor Vince is great in the role, so that's certainly helps a lot as well. But the way they're able to ramp up in the intensity and the horror to where you're terrified as to what might happen to this family is quite the accomplishment. I'm certainly not gonna spoil the ending, but let's just say that it is quite memorable. The movie is, actually, not that long in the slightest. The film ends just seconds before it hits the 75-minute mark. And, you know what, it's absolutely perfect at that running length. It is 75 minutes long, yes, but it is filled to the brim with content. Everything in this movie serves a purpose, no scene is wasted here. All the roads lead to the climax, there's no deviation from their goal in sight. Because of that, you're very easily invested in its story and its characters, which are really well-written (if I hadn't mentioned that already). Sean Byrne, clearly, is one of the best filmmakers currently in the genre. While this is only his second feature-length film, after The Loved Ones, another movie I loved (pardon the pun), but he's clearly working at his peak. Hopefully it doesn't take another 5 years before his next film comes out. So, yea, I pretty much loved every second of this movie. This is an example of what the genre can be when it's taken seriously and real, legitimate effort is put into it. Great horror movie and, really, it's about as easy a recommendation I will give this year.
Jesse Ortega
Super Reviewer
Goes largely unresolved, but still has a good grasp of the technical aspects and some small amount of originality.
The Devil's Candy Quotes
There are no approved quotes yet for this movie.