The Dead Undead
(2010)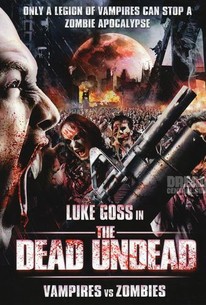 AUDIENCE SCORE
Critic Consensus: No consensus yet.
Movie Info
A small group of campers flee a mountain during a zombie outbreak, and wind up in a ghost town populated by sympathetic vampires. As the flesh-eaters close in, the blood-suckers offer safe harbor to the mortals, and wage all-out war against the rotting zombie horde. ~ Jason Buchanan, Rovi
Critic Reviews for The Dead Undead
There are no critic reviews yet for The Dead Undead. Keep checking Rotten Tomatoes for updates!
Audience Reviews for The Dead Undead
If you like Action, If you like Horror, If you like Vampires, If you like Zombies, If you like Vampire Zombies, then you'll like The Dead Undead.If you only enjoy big budget Zombie/Vampire flicks, then this is NOT the movie for you.The Dead Undead is a low budget Horror flick that is surprisingly good (For shooting this movie on a 1 million dollar budget, they did a pretty good job) When I 1st started watching, I wasn't expecting to like it at all but as it went along, it just got better & better.There was a ton of shooting going on with a few explosions which was pretty awesome.I especially enjoyed the individual stories of how the good vampires came to be (Where was the story of Jack?) It was a nice touch & it added to the movie.I really have no complaints.I would hope there would be at least a sequel because of the way it ended but since this movie was made in 2010 & it's now 2017, I don't see it happening.If I can find it on the cheap I wouldn't mind adding it to my DVD collection.If you get a chance to see The Dead Undead, give it a look.You might be surprised
Brody Manson
Super Reviewer
½
A vehicle for Luke Goss as obviously people like him as a vampire and admittedly he is good as a blood sucker. This film is clearly a low budget cheap as chips affair with not too much on offer in the effects arena accept for allot of gun porn hehe the acting is pretty bad from the unknown cast as they do their best 'Blade II Blood Pack' 'Aliens Colonial Marines' impression (badly) and don't really bring across the danger they are clearly in. Totally unoriginal plot as vamps fight against vamp zombies and are taken down one by one by the surging horde of flesh eaters, its also been made in a way that we've all seen before really, again think 'Aliens' or any other unit of men in a last stand situation. Basic makeup and very basic looking stunts, explosions and action, filmed mainly with hand held cams it seems which makes it more realistic but also enchances the cheapness haha and a rather blunt quick ending. Vernon Wells cameo at the very end is kinda cool but done obviously to gain that cool kudos.
Phil Hubbs
Super Reviewer
The Dead Undead Quotes
There are no approved quotes yet for this movie.