The Dead Next Door
(1989)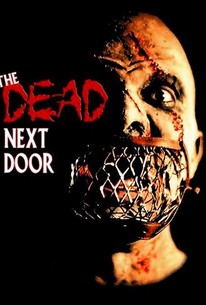 AUDIENCE SCORE
Critic Consensus: No consensus yet.
The Dead Next Door Photos
Movie Info
The feature debut of ultra-low-budget horror auteur J.R. Bookwalter, this fast-paced zombie mini-epic is very likely the most expensive movie ever shot on Super-8 film. Playing with the long-established mythos of George A. Romero's Living Dead trilogy, The Dead Next Door was produced with the help of many of the Evil Dead crew: financial backer Sam Raimi is credited as "Master Cylinder" and one of the characters is named after him; Evil Dead co-writer Scott Spiegel plays a role; and some character voices are dubbed by Bruce Campbell. The story centers on the members of the "Zombie Squad" -- an assault team trained in the hunting and extermination of the living dead -- and their mission to track down the scientists who developed a zombie-making virus and find the rumored antidote. Of the many lethal obstacles in their path, the deadliest comes in the form of a religious cult whose leader sees the zombie epidemic as a precursor of Armageddon -- and is hell-bent on expediting it. Very stylish for what is essentially an epic-scale home movie (and gushing with plentiful home-style gore effects), this remains Bookwalter's best effort and contains numerous witty homages to the Romero films which inspired it.
Audience Reviews for The Dead Next Door
The Dead Next Door is a poorly constructed low-budget zombie film that just doesn't work. Shot on Super 8 mm film, the film right from the start has an amateur feel to it. This is a film that is supposed to be homage to all the Romero films. Although I admire the use of Super 8, and what they managed to accomplish with such a low-budget, this film has no real plot or no substance. This could have been a very good film, instead it fails and lacks anything to really peak a horror fan's interest. J.R Bookwalter's directing is sloppy and unfocused. The film just fails because it doesn't tell a consistent story. The film could have been a fine low-budget tribute if the script would have been better. Unfortunately, the film is bad due to stupid overdubbing to make it sound like Bruce Campbell and other horror icons are in the flick. Unfortunately it makes the film unbearable, and it's a chore to watch. The biggest problems with this film are the script, acting and directing. Although the film has great gore effects considering the budget, it's simply not worth seeing. The acting itself is horrible, cheesy and laughable and the script goes out all over the place. This is a poorly made that you can tell that no real effort went into making something good and watchable. The filmmakers went for the gore factor, and though impressive, it doesn't make this a good film. This was bad, and if you love a good zombie flick, pass up on this one, and watch something else. The Dead Next Door simply isn't worth watching.
A great zombie movie starring Evil Dead's Bruce Campbell. It's even pretty funny at times, but still it brings the blood and gore you want in a horror movie. I really enjoyed it, and I highly recommend it.
Zombie Movies are not exactly one of my pleasure but I like to watch if a good one is running or I get a recommendation. Widely regarded as the most expensive 8mm zombie film ever made, This is not true, but not a bad one.
The Dead Next Door Quotes
There are no approved quotes yet for this movie.