The Dark Side of the Heart
(1994)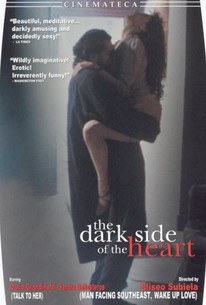 AUDIENCE SCORE
Critic Consensus: No consensus yet.
Movie Info
In this cheerfully surrealistic romance, a poet named Oliverio (Darío Grandinetti) lives by his wits in Buenos Aires, winning dollars by reciting his poems to passing motorists who stop at red lights or by occasionally trading a poem for a steak from a sympathetic restaurateur. His friends include an eccentric Canadian sculptor and Death (Nacha Guevara) himself, who often encourages him to get a regular job. When he grows tired of the women he is sleeping with, his bed becomes a doorway to elsewhere, and they simply disappear. This all changes somewhat when he falls in love with a high-class (and evidently very gifted) hooker. Their lovemaking sessions literally result in the couple levitating. Increasingly obsessed with meeting her fee, the free-spirited poet gets a job in advertising. At one point, their sexual encounter literally sends them flying over the city.
Critic Reviews for The Dark Side of the Heart
There are no critic reviews yet for The Dark Side of the Heart. Keep checking Rotten Tomatoes for updates!
Audience Reviews for The Dark Side of the Heart
A masterpiece of poetry & magical realism.
½
Although it has some big flaws, there's something really alluring about El Lado Oscuro del Corazón. Oliveiro is a poet whose life transcurs between Buenos Aires and Montevideo, engaging in conversation with Death, reciting, and looking for the woman who flies. Eventually he sells his ideas to advertising agencies-for money. One day he meets a prostitute in a cabaret in Montevideo and realizes that she's the one for him. The one thing he looks for in a woman is that she can fly while they are making love. From that moment on, his efforts concern getting the money to buy enough time with her so that they can fly together. Since the script is basically constituted of poems by Mario Benedetti (and also Argentinian poets), it's beautiful through and through. To Subiela's credit, I can say that the insertion of poetry in the story never comes off as cheesy. Dario Grandinetti's performance is excellent, he embodies Oliveiro perfectly and the way he recites the poetry is largely responsible of the beauty of the film. ELODC is, in brief, about the search for love, and the struggle between staying true to the art or going for the money that seems to come up often in stories about creative, tortured minds. Stylistically, there' s nothing new here. The flaws, in fact, I find are mostly in the rather corny special effects and the pretty bad choice of jazzy soundtrack. I think silence would have done wonders for the film, especially during some key moment when the music interferes with the action. The self-awareness is what differences this from a truly surrealist movie. Other than that, it's a wonderful experiment and a declaration of love to poetry, hope, and illusion.
The Dark Side of the Heart Quotes
There are no approved quotes yet for this movie.