The Craigslist Killer
(2011)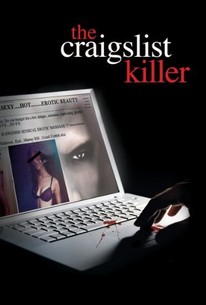 AUDIENCE SCORE
Critic Consensus: No consensus yet.
The Craigslist Killer Photos
Movie Info
This Lifetime Original Movie is based on the true story of Philip Markoff. He was the American medical student who was charged with the murder of Julissa Brisman in Boston, Massachusetts on April 14, 2009. Markoff met his many victims through Craigslist, a popular classified advertising website.
Critic Reviews for The Craigslist Killer
There are no critic reviews yet for The Craigslist Killer. Keep checking Rotten Tomatoes for updates!
Audience Reviews for The Craigslist Killer
Just okay. Trashy TV movie and looks it. Entertaining for an hour and a half, but nothing that would stand up to repeat viewing. Cast are adequate. Storyline is based on a true story and honestly it's tame for its genre. He only actually kills one girl, the rest are just assaulted. (Not that any of it is acceptable, but title implies something more dramatic if you are not familiar with the story). Not bad, and no less horrible what he did, but did lack a little something even as a TV movie. I did feel sorry also for the wife imaging how she would feel finding out her husband was like that.
Nicki Marie
Super Reviewer
½
This is not a story that deserves a film adaptation, however the Lifetime network felt differently and produced a movie based on this very benign story, that captivated the nation. For those who are unaware, this is a true story that happened in Boston, five years ago. A Boston medical student, on the verge of getting married, spends his nights cruising Craigslist's exotic services page, in order to find woman he can humiliate, but the story takes a tragic turn when he accidentally kills one of them. The story made national headlines and people became obsessed with why such a smart, successful man, would do these terrible things. Usually, films that are based on real life events are the most compelling, but the Craigslist Killer is different, for the fact that he wasn't active for very long. Much of this movie is focused on the killer's normal life and relationship with his fiancee. It's a lot of romantic garbage and stuff about their relationship and in fact we don't see his dark side revealed until much later in the movie. There wasn't even an interesting police angle or manhunt for this guy, as the police simply traced his IP address and got his picture from security cameras. The acting was the only thing I enjoyed about this film as Jake McDorman is fantastic playing a man with two personas. His fiancee is played by the beautiful, Agnes Bruckner, who was also very good, if not a bit naive and obsessive. The true story may have captivated the nation, but the film about the Craigslist Killer has no bite and was just plain boring.
Todd Smith
Super Reviewer
Based on a true story... we somewhat get into the head of an intelligent, popular, likeable guy who has a secret pastime... I wish we could know more about him but really, do we know anything about ruthless, evil people who seem like genuinely kind people on the outside?
Dannielle Albert
Super Reviewer
The Craigslist Killer Quotes
There are no approved quotes yet for this movie.