The Conqueror Worm (Witchfinder General)
(2000)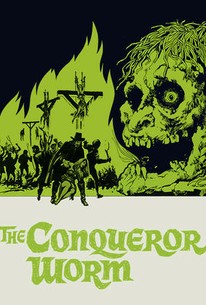 Movie Info
A corrupt opportunist commits brutal crimes in the name of God and country in this atmospheric period horror tale. In 17th century England, as a people's uprising threatens Lord Cromwell's rule, superstition still rules the land, and the Royalists use this to their advantage by inaugurating a reign of terror in the name of wiping out alleged witches and agents of the dark arts. Matthew Hopkins (Vincent Price) has been appointed "witchfinder" by Puritan Royalists, and with the help of his thuggish assistant Stearne (Robert Russell), Hopkins travels from town to town, brutally interrogating those accused of witchcraft and using fire, drowning, and torture to extract "confessions" from the accused. Of course, Hopkins' opinions can be swayed with money and other considerations, and when Father Lowes (Rupert Davies), a priest whose sympathies do not lie with the Royalists, is arrested and tortured by Hopkins and Stearne, his devoted niece Sarah (Hilary Dwyer) is able to stay his punishment by sleeping with Hopkins. Sarah, however, is engaged to marry Marshall (Ian Ogilvy), a soldier in Cromwell's army, and once Marshall learns that the woman he loves has been seduced by Hopkins -- and raped by Stearne -- he becomes determined to expose the witchfinder and punish him for his misdeeds. Witchfinder General was released in the United States by American International Pictures, who in addition to arranging for Vincent Price to play Matthew Hopkins, changed the North American title to The Conqueror Worm, after a poem by Edgar Allan Poe which was read over the credits by Price, though the story bears no real relation to Poe's work. ~ Mark Deming, Rovi
Critic Reviews for The Conqueror Worm (Witchfinder General)
Audience Reviews for The Conqueror Worm (Witchfinder General)
Vincent Price embodies with perfection the horrors of religious bigotry (a subject that is still not outdated), but the strength and brutality of the story get a bit diluted by its lack of a clearer direction and people who keep running around back and forth searching for each other.
Carlos Magalhães
Super Reviewer
½
In spite of Mr. Price's noteworthy performance, Witchfinder General is at best a second-rate production. The story is conceptually dark, the script is graphically brutal and the characters are painfully one-dimensional.
Randy Tippy
Super Reviewer
When it comes to the MGM Midnite Movies, I've yet to find a bad one, that is until I watched this film, maybe that's why its sold as a single rather then a double as most MGM movies are Double Features. Anyway I don't think Vincent Price enjoyed making the film as it just didn't have that Vincent Price Flair to it. Movie is about a self appointed man who with the help of others goes town to town to burn witches, and gets paid a pretty good price for doing it. But in one town he picked the wrong girl to mess with as her husband is out for revenge, Sure this billed as the second feature at a drive in during its big screen showing. Just lacked that Vincent Price feeling. 2 Stars
Bruce Bruce
Super Reviewer
The Conqueror Worm (Witchfinder General) Quotes
There are no approved quotes yet for this movie.