The Conjuring 2
(2016)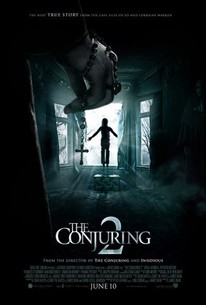 TOMATOMETER
AUDIENCE SCORE
Critic Consensus: The Conjuring 2 can't help but lose a bit of its predecessor's chilly sting through familiarity, but what remains is still a superior ghost story told with spine-tingling skill.
Movie Info
Reprising their roles, Oscar nominee Vera Farmiga ("Up In the Air," TV's "Bates Motel") and Patrick Wilson (the "Insidious" films), star as Lorraine and Ed Warren, who, in one of their most terrifying paranormal investigations, travel to north London to help a single mother raising four children alone in a house plagued by malicious spirits.
News & Interviews for The Conjuring 2
Critic Reviews for The Conjuring 2
Audience Reviews for The Conjuring 2
Decent sequel with some truly scary parts. The female ghost in particular was gruesome and real nightmare material! The 70's setting from the previous works well again here too. This era always seems creepier to me than modern day settings. The characters were well built and sympathetic too being a struggling single mum and her three kids. The squalid state of the house worked well with the creepiness going on within. Some parts were a bit hammy and silly, but overall a success.
Nicki Marie
Super Reviewer
½
The action moves to London as our plucky paranormal investigators delve into some Brit culture for their supernatural face-off. It's not bad, but there's some predictability that squelches the fun quotient. And don't ask that things make sense.
Kevin M. Williams
Super Reviewer
½
Word on the Ouiji board had us believe that James Wan was walking away from horror movies. He ventured into the Fast and Furious action franchise (with its 7th instalment) and stated his intention to leave the horror genre behind. However, his nostalgic frightener The Conjuring in 2013 was such a resounding success that Wan decided to return and take charge of its sequel. Often with sequels, they fail to deliver on the predecessor's success but Wan still has a few tricks up his sleeve. In the London borough of Enfield in 1977, single mother Peggy Hodgson (Frances O'Connor) believes that something evil and malevolent lurks in her house. When her young daughter Janet (Madison Wolfe) starts to display signs of demonic possession, Peggy reaches out to the church and the media to provide help. News soon travels to American paranormal investigators Ed and Lorraine Warren (Patrick Wilson and Vera Farmiga) who find that the spirit that's plaguing the family has also been plaguing themselves for years. Opening on a seance that takes us back to the mass murder of the Amityville story James Wan employs some stylistic directorial flourishes that set this film up on a strong footing. His feel and rhythm for the material is apparent from the offset and his use of camera angles lend an unnerving atmosphere to the proceedings. After such a striking opening, he slows events down and introduces new characters and a new location. However, the haunted house routine is, once again, at the forefront and the usual horror tropes are on full view; creaking doors, knocks on the walls, vibrating beds and disembodied voices from the darkest corners of a room. It's credit then to Wan that they don't feel overused or even stale for that matter. The narrative is helped by relocating to England where, what is essentially a retread, feels like a new chapter in the paranormal dealings of the Warrens and Wan introduces a new demonic presence that looks like Marilyn Manson in a nuns habit. This may sound ridiculous but it's a very unsettling entity and Wan also throws in creepy ghostly images of a 72 year old man that refuses to leave the house (or the family) alone. What doesn't work so well is a subplot involving zoetrope character The Crooked Man. It's shoehorned in to give a young side character something to do and feels almost like an attempt to provide another future tie-in horror film (much like the doll Annabelle that originated from the first instalment). It just doesn't work and provides absolutely nothing to the story at hand and its omission could have saved 20mins from Wan's slightly overlong running time. For the most part, though, Wan wrings out the terror with a very assured hand. He builds assuredly and allows the horror to creep in with the occasional image or revelation hidden in a corner of the frame. In doing so, there are several efficient jump-scares and hairs on necks and moments and that's ultimately how I judge a horror. Admittedly, there are issues and contrivances in the story and the "based on a true events" angle has caused controversy but Wan's ability to stage a creepy scene is hugely effective and he delivers a package that does exactly what it sets out to do. Horror films of late seem to have taken a much needed look at themselves and there have actually been some notable inclusions in recent years. With James Wan returning to this platform, it will do the genre no harm whatsoever. Mark Walker
Mark Walker
Super Reviewer
The Conjuring 2 Quotes
There are no approved quotes yet for this movie.