The Commissar (Komissar)
(1988)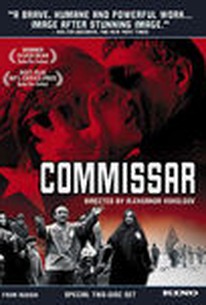 AUDIENCE SCORE
Critic Consensus: No consensus yet.
Movie Info
The Commissar of the title, played by Nonna Mordyukova, is a Soviet functionary wielding power over a remote Jewish village. Neither she nor the villagers care for the status quo, but over a period of several weeks both come to accept the situation and to establish a detente. The film's pro-Semitism was not entirely in keeping with Soviet policy of the 1960s, thus the film was shelved and hidden from the general public. Only with the thawing of East-West relationships, and the political upheaval in Russia itself, was The Commissar deemed "safe" for general consumption. The film was finally distributed in 1988, twenty years after its completion. ~ Hal Erickson, Rovi
Critic Reviews for The Commissar (Komissar)
All Critics (3) | Top Critics (1) | Fresh (3) | Rotten (0) | DVD (2)
Add ''Commissar'' to the remarkable series of Soviet movies that has been finding its way West after many years in the cinematic gulag.
But at times, thanks largely to the performance of Nonna Mordyukova as Clavdia, [director Alexander Askoldov] achieves a stunning economy of effect.
Audience Reviews for The Commissar (Komissar)
"The Commissar" is set during the Russian Civil War as Communist troops are setting up shop in a village. Amongst them, Klavdia(Nonna Mordyukova), a commissar, is very, very pregnant. After long periods in combat and on horseback, she was so occupied that by the time she saw a doctor, she was so advanced that one would not perform an abortion and no amount of iodine could do away with it, so her commanding officer(Vasili Shukshin) moves her away from her comrades, housing her with a large Jewish family. At first Yefim(Rolan Bykov) is indignant but once Klavdia's condition becomes clear, his wife Maria(Raisa Nedashkovskaya) does her best to help her. While eschewing a neorealistic approach by going against the grain with a nontraditional musical score and striking imagery, "The Commissar" is also a powerful look at the role of women in combat. Klavdia sees herself as a soldier first which is in conflict with the need to care for her child.(In "Farscape," female Peacekeepers could control their pregnancies to such a degree that they could give birth quickly with hardly a break before returning to the battlefield.) In America, she would be accused of giving in to her ambitions but then that's capitalism for you. In a socialist state, as imperfect as it is, the need comes from being part of a struggle larger than yourself that a flashforward gives an even greater urgency to.
The Commissar (Komissar) Quotes
There are no approved quotes yet for this movie.