The Comedy
(2012)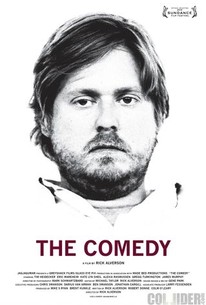 TOMATOMETER
AUDIENCE SCORE
Critic Consensus: Tim Heidecker's misanthropic role proves him capable as a dramatic performer, yet The Comedy's study of privilege unchecked is never as illuminating nor engaging as it should be.
Movie Info
On the cusp of inheriting his father's estate, Swanson (Tim Heidecker, "Tim & Eric Awesome Show, Great Job!") is a man with unlimited options. An aging hipster in Brooklyn, he spends his days in aimless recreation with like-minded friends ("Tim & Eric" co-star Eric Wareheim, LCD Soundsystem frontman James Murphy and comedian Gregg Turkington a.k.a."Neil Hamburger") in games of comic irreverence and mock sincerity. As Swanson grows restless of the safety a sheltered life offers him, he tests the limits of acceptable behavior, pushing the envelope in every way he can. Heidecker's deadpan delivery cleverly masks a deep desire for connection and sense in the modern world. The Comedy wears its name on its sleeve, but director Rick Alverson's powerful and provocative character study touches a darkness behind the humor that resonates with viewers long after the story ends.
News & Interviews for The Comedy
Critic Reviews for The Comedy
Audience Reviews for The Comedy
½
This mumblecore piece of avant-garde comedic drama is certainly not for everyone's taste but I found strangely compelling to observe (yes, that's the word) the life of this revolting character who is composed by Heidecker (always fantastic) mostly through improvisation.
Carlos Magalhães
Super Reviewer
After watching The Comedy, I'm sort of perplexed at the idea that I liked the movie. To be honest, I couldn't give you a real reason why either. As a character study, it works to a degree, but it is sort of aimless. As far as plot, none. The whole production is done in the quietest and most depressing manner possible. I'd even go as far as to classify it as a dull movie. Yet, I still liked it.  A 35 year old hipster, who is on the verge of inheriting his dying father's estate spends his days on his boat or galavanting through downtown acting like he works at places he doesn't. His nights are mostly spent with his equally depressing and boring hipster friends who share in weird conversations with each other and drink. That's the basis of the story to the film, and most of the time a lot less than that is going on.  The Comedy is offbeat and weird to be sure, but that is a big reason why I like it, I think. I love movies that desire to be something completely different and don't care how it's going to play to a large audience. This is completely different and it will never appeal to a large crowd, but there is an audience for it.  By the way, The Comedy isn't really a comedy. You'd be hard pressed to throw this into any genre other than the broad Independent film genre. As far as a recommendation goes for this film; I would never give anyone the idea that they would certainly enjoy it. Odds are most won't be able to sit through it and those that do will wonder why they did. For those out there like me though that have a taste for these type of movies, it's worth a look.
Melvin White
Super Reviewer
While I may regret saying this at some future point in my life, I saw a lot of myself in Swanson, the protagonist of this film who, day by day, is trudging through a malaise. Not so much the naked debauchery, but definitely the desire to withdraw oneself from feeling. Many people see this film as a critique of hipster culture. Exposing the popular fallacy of believing that it is better to be above it all. To make a life of understanding the way the game is played, but just choosing not to play. There is definitely some of that peppered in this film, but what I really latched on to was the character study; one of a man who is obviously capable of empathy and understanding, but seldom exercises either mental process. At first it appears he feels nothing. Sitting beside the bed, concerned little with the cancer that is languidly eating away bit by bit at the man who he calls father, he probes the doctor about prolapsed anuses. Watching his sister-in-law frantically pace before his eyes, he assumes the role of a southern plantation owner, cracking wise about the good crop of slaves he now has in his possession. Yet, aided by a surprisingly subtle but strong performance by absurdist comedian Tim Heidecker, one can see that he isn't incapable of feeling. He simply prefers disaffection. After all, the world can some easily overwhelm you with emotion, so I understand the desire to want to control the sentiment of the room by creating one yourself. There are a lot of parallels to the television show Louie. It has the capacity to make you laugh at the absurdity of it all one second, while leaving you speechless with grief the next. It is a recipe that doesn't sit well with many. But for those who were looking for this particular dish, even if as a whole it isn't perfect, the ingredients are a pleasure to take in.
The Comedy Quotes
There are no approved quotes yet for this movie.