The Class
(2008)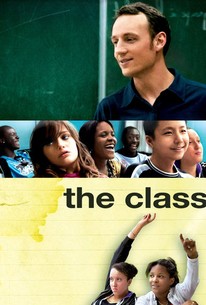 TOMATOMETER
AUDIENCE SCORE
Critic Consensus: Energetic and bright, this hybrid of documentary style and dramatic plotting looks at the present and future of France through the interactions of a teacher and his students in an inner city high school.
Movie Info
François is a tough but fair teacher working in one of France's toughest schools, and his honest demeanor in the classroom has made him a great success with the students. But this year things are different, because when the students begin to challenge his methods François will find his classroom ethics put to the ultimate test. François Bégaudeau stars in director Laurent Cantet's entry into the 2008 Cannes Film Festival. ~ Jason Buchanan, Rovi
News & Interviews for The Class
Critic Reviews for The Class
Audience Reviews for The Class
As an authentic depiction of Western contemporary teaching in a multicultural school in Paris, this honest film wisely uses a documentary style and young non-actors to offer a realistic view into a culturally diverse city, beautifully escaping the Hollywood school clichés.
Carlos Magalhães
Super Reviewer
Francois Begaudeau's memoir/novel about teaching in inner city Paris provides the basis for The Class, which inventively combines the best of the documentary and classic drama genres. The film is the result of numerous improvisation exercises with a mix of real students and young actors; many of the characters' first names are the actors' first names. The effect is a film that perfectly renders the classroom experience. I would find it difficult to believe someone who said s/he didn't feel what it is like to be in that classroom. From a thematic perspective, The Class's American counterparts are Dangerous Minds and Freedom Writers, but these films often deploy the teacher-as-savior motif that characterizes much of how teachers are portrayed in cinema. In these films the teacher becomes a moral coach before s/he concentrates on course content. S/he is teacher-as-inspiration before teacher-as-teacher. But this motif is not deployed in The Class. Though we certainly have moments when Marin delves into a moral tangent, I cannot say that he emerges as the unquestioned hero in the way that protagonists in other films do. And if the film questions the protagonist, it does so subtly. In fact, toward the beginning, educator to educator, I couldn't tell what he was doing wrong. Oftentimes the film is quite bleak, portraying student resistance in realistic and dramatically compelling ways. And though by the end of the film, we're left wondering how education is even possible, there is a measure of hope in the realization that the system of pedagogy is generally sound, that students are generally well-meaning and capable, and that somehow many people emerge from the morass of adolescence and structured schooling as predominantly well-adjusted individuals. Overall, The Class is a remarkable film that proves beyond a doubt that teaching is the hardest job on the planet.
Jim Hunter
Super Reviewer
½
A absolute triumph. A near-masterpiece of a film that correctly avoids going down the "inspirational" route, instead opting for almost a documentary style of film making, showing both the positives and negatives of each character, while also providing a well-balanced approach to its subject matter - that being the politics and on-goings of a tight-knit school in Paris. I can say with certainty that this film definitely gave me an appreciation for the teacher's angle, since I for one was often quickly to be on the accusation side on certain issues (like these kids) - this film proves there is definitely more that meets the eye and that all teachers aren't out to get you. Although not without its flaws (it doesn't give that much about the lead character, though you end up caring and rooting for him, which doesn't happen often), it's certainly a probing and engaging look into a classroom, and one that doesn't make you feel all happy inside (though giving us a slightly optimistic and upbeat ending).
Dan Schultz
Super Reviewer
The Class Quotes
There are no approved quotes yet for this movie.