The Chronicle of Anna Magdalena Bach
(1968)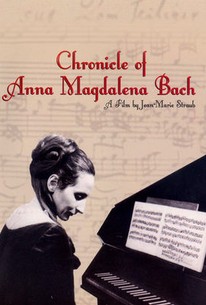 Movie Info
The widow of Bach reminisces in this biography. Her life with the great composer was not easy. He seldom spoke to her. When he did, it was only to read letters of complaint. Included are performances of Bach's works including the Brandenburg Concerto No. 5, Prelude 6 from the "Little Clavier Book for Wilhelm Friedemann Bach, Minuet 2 of the Suite in D Minor from the "Little Clavier Book for Anna Magdalena Bach, Sonata No. 2 in D Major for Viola and Harpsichord, Partita in E Minor from the "Little Clavier Book for Anna Magdalena Bach, Trio-sonata No. 2 in C Minor, Magnificat in D Major, "St. Matthew Passion, Prelude in B Minor for Organ, Mass in B Minor, Ascension Oratorio, Clavier-Uebung Italian Concerto, Goldberg Variations, Musical Offering, Art of the Fugue Corale for Organ, and Cantatas No. 205, 198, 244, 42, 215, 140, 82. ~ Sandra Brennan, Rovi
Critic Reviews for The Chronicle of Anna Magdalena Bach
Audience Reviews for The Chronicle of Anna Magdalena Bach
my straub/huillet odyssey begins. the film is very austere and very beautiful. enjoy the music but don't expect an ordinary biopic
Stella Dallas
Super Reviewer
In trying to learn about great artists of the past, the one thing we should be concentrating on is whatever creative projects survive to the present day, and worry less about what made them great. Along these same lines, this film takes a modestly revolutionary step by putting the truly wonderful music of Johann Sebastian Bach(Gustav Leonhardt) front of center, as explained in the making-of documentary. Framing the sublime sounds is the life of the composer as narrated by Anna Magdalena(Christiane Lang), Johann's second wife, filling in the gaps of their personal struggles and his career, with minimal extrapolation. One particular episode stands out with Johann's tutorial explaining not only a particular musical instrumment but also the sounds of the era.
The Chronicle of Anna Magdalena Bach Quotes
There are no approved quotes yet for this movie.