The Choice
(2016)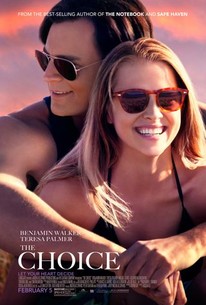 TOMATOMETER
AUDIENCE SCORE
Critic Consensus: Like the 10 Nicholas Sparks movies before it, The Choice finds tragedy striking star-crossed lovers in the sun-dappled South -- yet even for those who loved its predecessors, this gauzy melodrama may feel painfully formulaic.
Movie Info
When feisty medical student Gabby Holland moves in next door to perennial ladies' man Travis Shaw, it sends them both on a romantic journey neither ever dreamed possible. Travis has always believed a serious relationship with a woman would cramp his easygoing lifestyle, while Gabby is all set to settle down her long-term boyfriend-until an irresistible attraction between the unlikely couple upends both of their well-planned lives. After a whirlwind courtship, Gabby and Travis wed and build a family together, making every decision hand-in-hand until one of them is forced to make the most important choice of their life alone. A poignant and life-affirming celebration of love, marriage and family that explores the most heart-wrenching question of all: how far would you go to keep the hope of love alive?
News & Interviews for The Choice
Critic Reviews for The Choice
Audience Reviews for The Choice
Wavering between 3 and 3 1/2 stars. SPOILERS........I am not the biggest fan of Nicholas Spark's stories generally. This one was a little better than usual. I kind of liked the characters, even though they were stereotypes. The player good ol boy and the smart, uptight girl next door. I didn't recognize Tom Welling. I haven't seen him since his Smallville days and that little theme of her cheating on his character wasn't so flash, as he is a decent guy and I can't condone that behavior. However, it mostly works. Some romantic scenes, I found the relationship believable although so mismatched it seemed like it wouldn't work out. The rushing forward 7 years and having a family - all that could have been omitted honestly, as it added nothing to the story, you don't even learn the kids names. Plus neither of them aged a darn day, including her after her quite serious car accident. At least there wasn't a death. I was just waiting for that being a Nicholas Sparks story!!
Nicki Marie
Super Reviewer
My least favorite Nicholas Sparks film, but not bad. The first half of the film really does not make you fall in love with the characters. It's a long stretch to finally get to the part where you start to care. Unlike all of the previous Nicholas Sparks films, this just seems like a film you could pass on. The main characters really don't have the energy or great chemistry that previous actors have had in other films from Mr. Sparks. I was shocked the extras on the Bluray really only consisted of two deleted scenes that you could have passed on. This film felt rushed out and no love put into this movie like all other films. I always jump to see a Nicholas Sparks film, but this one really wasn't all that loving...
V for Vendetta
Super Reviewer
½
Melodramatic tripe, The Choice is yet another insipid romance film based on a Nicholas Sparks novel. The story follows a small town veterinarian who falls in love with his new next door neighbor, a nurse in-training who's dating a doctor. It's an incredibly formulaic and painfully predictable plot, and the characters are all pretty one-dimensional. Benjamin Walker and Teresa Palmer do have some chemistry together, and there are some nice supporting performances by Maggie Grace, Alexandra Daddario, and Tom Wilkinson. But overall, The Choice is a rather rote and unimpressive film.
Dann Michalski
Super Reviewer
The Choice Quotes
There are no approved quotes yet for this movie.