The Challenge
(1982)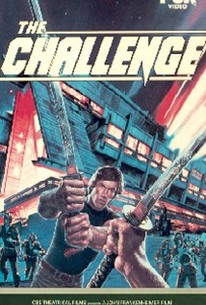 Movie Info
The Challenge is a classy effort directed by John Frankenheimer. Scott Glenn stars as an American boxer who finds himself in the middle of a Japanese blood feud. Toshiro Mifune and Atsuo Nakamura plays the last surviving brothers of an ancient samurai family, embroiled in a battle of the possession of the family swords. Once involved in this contretemps, Glenn must also contend with the minions of the Yakuza, a Japanese Mafia-style organization. Sword of the Ninja was co-written by John Sayles, better known as the writer/director of such films as Brother From Another Planet and Eight Men Out.
Critic Reviews for The Challenge
Audience Reviews for The Challenge
I just saw this for the first time recently and I was completely blown away by it. A forgotten gem in the 80's action genre, The Challenge is a glorious reminder of how much fun a movie can be despite everything going against it. Starring Scott Glenn and Toshiro Mifune, the movie is filled with bad dialogue, questionable story mechanics and laughable performances, but somehow it all works just perfectly. The score is quite good, coming from Jerry Goldsmith no less, and the action scenes are fantastic. You can tell a lot of choreography was put into the action set pieces, particularly the final showdown. I found myself clapping at the end because I was deliriously entertained by the whole thing. The trouble is that I know most people won't get it or care, but those that do like a couple of friends mine, love it like I do. It's by no means a masterpiece, but I'd love to see it get some love as it's been out of print for years and never been available before on DVD. I'm hoping that it at least gets a release through an MOD program of some kind.
Tim Salmons
Super Reviewer
Preposterous, from the bland title that studio execs must have chosen -- totally unrelated to the content of the movie -- to the desperate symbolism of the last shot. The Challenge is an improvement on 80s action TV only. Scott Glenn and Calvin Jung, as the two show-off Americans, have some ridiculous dialogue, and Donna Kei Benz has no non-abs-related reason to sleep with Scott Glenn, except that he is a white beer drinker and deserves a reward for race-crossing loyalty and a heart as big as all Texas. The melodrama is almost tongue-in-cheek, especially with the little Japanese kid who washes clothes hoping to be a warrior, battles low self-esteem and speaks English like he was an orphan trying to get couples to take him home. In the end, office furniture is mightier than the sword -- or at least an insidious rival to the sword with its unwieldy symbolism. But Toshiro Mifune is good to see and a few sequences are edited very well.
Adam Mahler
Super Reviewer
A favorite, what can I say
The Challenge Quotes
There are no approved quotes yet for this movie.