The Bodyguard
(1992)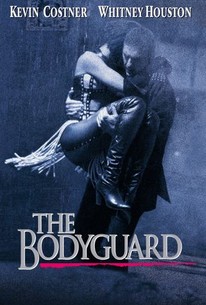 Movie Info
Lawrence Kasdan originally wrote his script for The Bodyguard in the late 1960s as a vehicle for Steve McQueen; by the time it reached the screen, Kasdan's star was another movie hearthrob, Kevin Costner. When imperious musical superstar Whitney Houston begins receiving death threats, she is compelled to hire a bodyguard. Enter Costner, who immediately incurs the wrath of Houston and her entourage by imposing prison-like security measures. An ex-Secret Service agent, Costner still hasn't purged himself of his guilt feelings over his inability to protect President Reagan from would-be assassin John Hinckley (in the original concept, the agent had been guarding JFK in Dallas, but Costner was too young to make this credible; besides, he and Oliver Stone had been there before). Gradually, and inevitably, Costner and Houston fall in love. Ralph Waite is cast as Costner's father, while Robert Wuhl and Debbie Reynolds please the crowd in their cameo roles. The Bodyguard was a huge box-office success, helped along in no small part by Whitney Houston's bestselling rendition of the old Dolly Parton hit "I Will Always Love You." ~ Hal Erickson, Rovi
Critic Reviews for The Bodyguard
Audience Reviews for The Bodyguard
A great film. Costner makes an excellent bodyguard and Houston's singing voice just blows you away everytime. The soundtrack is just as good as the film.
Bethany Murphy
Super Reviewer
½
Kevin Costner stars as an ex Secret Service, turned Bodyguard who is billed as the best there is. Hired by Rachel Marron, a famous singer (played by Whitney Houston who is surprisingly good) after a series of problems from an obsessed fan. This film sounds like (and at times plays like) a daytime TV movie. However, there is something about the 1990's Kevin Costner that transforms this film into one of the best films of its day. We are made to gasp as Kevin Costner swoops in and save the head strong singer time and time again and look on as the pair inevitably fall for each other. The only downside of this film is the somewhat unexplained jealousy of the older sister and the motives behind the assasination attempts on the famouse Rachel Marron. "The people who hire me, they don't have to be convinced to save their own lives. "
Christopher Alcock
Super Reviewer
This movie is in my opinion one of the greatest love stories of all time. The soundtrack and Kevin Costner and Whitney Houston make this movie one of my all-time favorite movies! :) Just great :)
Cassie Hill
Super Reviewer
The Bodyguard Quotes
There are no approved quotes yet for this movie.