The Block House
(1974)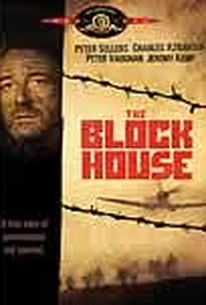 AUDIENCE SCORE
Critic Consensus: No consensus yet.
Movie Info
The Allied bombardment of Normandy sends seven forced laborers into a concrete bunker filled with food, wine and other necessities. They're overjoyed until they realize they're trapped. As time passes, fear gives way to boredom and then despondency when they realize no one knows they're missing. Based on a gripping true story, this movie stars Charles Aznavour and Peter Sellers in a rare dramatic role. Clive Rees directs.
Critic Reviews for The Block House
There are no critic reviews yet for The Block House. Keep checking Rotten Tomatoes for updates!
Audience Reviews for The Block House
While being forced to work on barricades by Nazi troops in Normandy on June 6, 1944, a group of prisoners seek shelter in a bunker during a bombardment with Visconti(Charles Aznavour) beating everybody to safety. The good news is they have enough food and wine for an army which they begin to consume after a quick debate as to what will the Germans ever think, not to mention not being in danger of running out of air. The bad news as Grabinski(Jeremy Kemp) points out with the help of a map is that they are trapped, even if one of them claims to hear the sea through one of the concrete walls. So, Rouquet(Peter Sellers) passes the time by writing poetry on a wall. Based on a true story(the best or worst part comes in the endnote), "The Block House" is a haunting tale of survival that is novel for being less concerned with the physical side of the equation than the emotional. The cruelest part is the men have no idea what is going on in the outside world, like being liberated, so they are still prisoners but with no masters. Adding to the claustrophobia is the use of natural light. Eventually, the passage of time becomes tricky to keep track of as Rouquet has to correct another that they have been underground not two weeks, but seven. The terrifying question soon becomes: and now what?
The Block House Quotes
There are no approved quotes yet for this movie.