The Bleeding
(2011)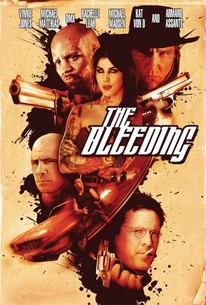 AUDIENCE SCORE
Critic Consensus: No consensus yet.
Movie Info
Shawn Black (Michael Matthias) knows pain. His parents and brother were killed in front of him. Beaten, bloodied and left for dead by a gang of ruthless vampires led by the charismatic Cain (Vinnie Jones) and his lethal lieutenant Vanya (Kat Von D). But like his would-be murderers, Shawn has come back from the brink of death to take his revenge. He soon comes upon Reverend Roy (Michael Madsen), who reveals to Shawn his calling as a "slayer," the only human capable of truly destroying vampires. Dark, brooding and with a palpable layer of cowboy justice, THE BLEEDING spins a tale of otherworldly influences running headlong into the very human thirst for revenge. Redemption comes with a heavy, and bloody, price in THE BLEEDING. -- (C) Anchor Bay
Critic Reviews for The Bleeding
All Critics (1) | Fresh (0) | Rotten (1) | DVD (1)
A slapdash mess of genres with zero storytelling capability, Bleeding looks to coast on red-hot vampire trends. Instead, the film bites, and not in a satisfyingly monstrous manner.
Audience Reviews for The Bleeding
Ooh. This is not a good movie. It's hard to tell whether they worked very hard on it but had no talent, or made this movie in an afternoon and didn't give two shits. More's the pity if this project was actually somebody's pride and joy; their baby. Watching this was like watching Cleaver, the movie Chris Moltisante made in The Sopranos. It's a big pile of macho drivel with some vampires thrown in there. It doesn't know if it wants to be Underworld or The Fast and the Furious. The dialogue sounds like it was written by someone Googling action movie catchphrases. The storytelling here is terrible: like many movies, it falls into the trap of recreating novelties it's seen in other movies without understanding what made them potent in the first place. Lens flares and flashforwards are all well and good if you use them for a reason. I could have made two good movies out of the budget that they spent here on the car chase alone. I hope I don't see any more blustery movies like this (though I know what a hollow wish that is).
Emily Armstrong
Super Reviewer
It had a pretty decent idea that sadly had to small a budget, bad directing and a lack of charisma from it's cast. Michael Matthias is not star material, he dosent bring anything to the table but a bad performance. Dmx......well cant act at all. Michael Madsen sadly is lazy as hell in his role. Armand Assante is the best actor of the group and think he shouldn't of stepped foot on this set. Oh my god Vinnie Jones why did you do this ? must been low on cash or just wanted to play the villain in a vampire film. Such a terrible genre piece trying to do what great films like Blade or Vampires did combining great characters with action and horror. Epic fail for the team of this trash
The Bleeding Quotes
There are no approved quotes yet for this movie.