The Blackout
(1997)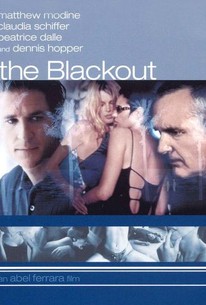 Movie Info
Cult figure Abel Ferrara directed this typically edgy look at an actor whose abuse of alcohol and drugs takes an unexpected toll. Matty (Matthew Modine) is an actor whose career is on the fast track; however, he's not able to handle the pressures of life in Hollywood, so he heads to Miami to recharge his emotional batteries. Given Miami's night life, this might not have been the wisest choice he could have made, as he's soon sunk deep in a sea of drink and drugs. Matty asks his girlfriend Annie (Beatrice Dalle) to marry him, but she turns him down, as she's still bitter about having to have an abortion when he got her pregnant some time back. Matty, however, can barely remember this event. Matty's friend Mickey (Dennis Hopper), a night club owner and video artist, decides that Matty needs to get away from his problems, and they set out for a long night of heavy partying, during which Matty picks up a waitress, also named Annie (Sarah Lassez). Somewhere along the line, Matty drinks so much that he blacks out, and he awakes with no memory of the evening. 18 months later, Matty is clean and sober, living in New York with his new girlfriend Susan (Claudia Schiffer). He can't get Annie out of his mind, and he flies to Miami to visit her, hoping to close some old wounds. But Annie the waitress turns out to have some bad news for him when he arrives in Florida. The Blackout marked the acting debut of model Claudia Schiffer, and, as in several of Ferrara's previous films, seminal hardcore rapper Schooly D contributed several songs to the soundtrack.
News & Interviews for The Blackout
Critic Reviews for The Blackout
Audience Reviews for The Blackout
From the 1997 Toronto International Film Festival.A Complete waste of my time, This is the worst of all the movies I have seen from this Festival. What was this movie about, had to be a low point in everyone?s career. I knew I was in trouble when netflix sent me a 1997 Movie, that had not a scratch one on it. Looked like a movie right out of the case, meaning, no one has watched it, and for good reason. You give this anything more then 2 stars you might want to get a life. Gets 1/2 a star from me. TRASH IT
Bruce Bruce
Super Reviewer
A film I am shocked that more Ferrara fans don't love. Sure it's reminiscent of other works by him, but that's one of the things that makes it great. Modine is awesome as the scumbag lead who goes to Hopper for help on piecing together a night that he blacked out. Terrific stuff that deserves a lot more praise than it got.
Christopher Brown
Super Reviewer
½
A strange film really, bit slow to start with but has a very good ending with a twist.
The Blackout Quotes
There are no approved quotes yet for this movie.