The Big Wedding
(2013)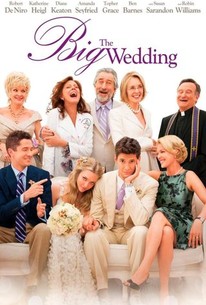 TOMATOMETER
AUDIENCE SCORE
Critic Consensus: The Big Wedding's all-star cast is stranded in a contrived, strained plot that features broad stabs at humor but few laughs.
Movie Info
With an all-star cast led by Robert De Niro, Katherine Heigl, Diane Keaton, Amanda Seyfried, Topher Grace, with Susan Sarandon and Robin Williams, THE BIG WEDDING is an uproarious romantic comedy about a charmingly modern family trying to survive a weekend wedding celebration that has the potential to become a full blown family fiasco. To the amusement of their adult children and friends, long divorced couple Don and Ellie Griffin (De Niro and Keaton) are once again forced to play the happy couple for the sake of their adopted son's wedding after his ultra conservative biological mother unexpectedly decides to fly halfway across the world to attend. With all of the wedding guests looking on, the Griffins are hilariously forced to confront their past, present and future - and hopefully avoid killing each other in the process. Screenplay by Justin Zackham. Directed by Justin Zackham. (c) Lionsgate
News & Interviews for The Big Wedding
Critic Reviews for The Big Wedding
Audience Reviews for The Big Wedding
½
** Some movies have really good casts and they just don't work out. "Big Wedding" is one of those movies. Robert Di Nero, Diane Keaton, Katherine Heigl, Topher Grace, Amanda Seyfried, Susan Sarandan round out the cast. But even with all that star power, this is a very uneven, unfunny romantic comedy. It's basically about a dysfunctional family coming together for a wedding, and all their problems come to a head. Women will probably enjoy it more than the guys(even though Emily passed out and didn't care for it all). Worth a watch? Maybe a one time on Netflix. But not really worth any money.
Everett Johnson
Super Reviewer
It's never too late to start acting like a family. Good movie! The one line that "The Big Wedding" straddles well is that between comedy and drama. The film is effective when it moves from funny jokes to touching family honesty and back to some more funny jokes. The story lines are very predictable, and sometimes the jokes are too simple and too wrong, but it tries to add in the right amount of drama, and ultimately, it should be entertaining to fans of the genre. Don and Ellie were once married and have two children, Lyla and Jared. They adopted a boy from Colombia, Alejandro. Eventually they divorce, Ellie moves away and Don hooks up with Bebe, Ellie's best friend. When Alejandro is about to get married, he informs Don And Ellie that he never told his natural mother who is so traditional that they got divorced. And she is coming for the wedding so he asks them if they can pretend to still be married. Don and Ellie reluctantly agree to it and Bebe moves out who is also upset that Don for some reason doesn't want to commit.
Pretty lame. Good cast is pretty much wasted. Katherine Heigl is quite brittle and you can guess her little secret early on. Amanda Seyfried is underused. Diane Keaton is virtually the same mother character she always plays. I hated Robert DeNiro's character - was a sleazy old creep. Susan Sarandan, not at her most likeable either. I also didn't like the stone-faced biological mother - very cliched until the very end. Plot is wafer thin. Can't even be bothered repeating it, and it seemed most of the "adult" cast were, or had been, involved in some shocking sexual thing. The younger cast are pretty tame by comparison. The bit with the "moms" at the end was a step too far for disbelief. The whole thing had me rolling my eyes, and Robin Williams as some marriage advising vicar thing again - didn't he already play that role in that godawful Mandy Moore movie from a few years back? It's not much better here. There are a few tame laughs, and it is good to see Topher Grace onscreen, but most of these actors have made far better movies in this genre. 27 dresses, Because I said so, Win a date with Tad Hamilton, Mean girls. Rent one of those instead!
Nicki Marie
Super Reviewer
The Big Wedding Quotes
There are no approved quotes yet for this movie.