The Big Gundown
(1966)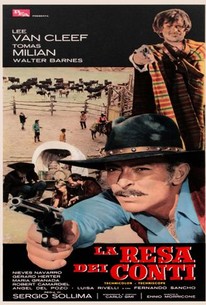 AUDIENCE SCORE
Critic Consensus: No consensus yet.
Movie Info
Jonathan Corbett (Lee Van Cleef) is one of the top lawmen in the State of Texas. He's so good at what he does, that he's been approached by Brokston (Walter Barnes), a wealthy speculator and power-broker, about running for the United States Senate. But there's one job that needs doing first which, if Corbett can finish it, will put him in an unchallengable position -- he has to hunt down and capture (dead or alive, with the emphasis on "dead") Cuchillo Sanchez (Tomas Milian), who's wanted for raping and killing a 12-year-old girl. Corbett does what he does best, pursuing Sanchez relentlessly and on his own level of intense brutality, past the border and into Mexico -- but along the way, Corbett learns what life is like for peasants like Sanchez, and what men like Brokston have to do with it. And he discovers that Sanchez may not be the murderer that Corbett thinks he is.
Critic Reviews for The Big Gundown
Audience Reviews for The Big Gundown
½
Sollima's Western is an exciting manhunt that follows the structure of a road-movie, with its two main characters meeting over and over in many different situations. A thrilling movie with a vibrant performance by Tomás Milian and an unexpected twist in the third act.
Carlos Magalhães
Super Reviewer
The plot of "The Big Gundown" is a little thin, centered on a sharpshooting lawman (spaghetti-western stalwart Lee Van Cleef) in pursuit of a Mexican peasant (Tomas Milian) accused of raping and killing a 12-year-old girl. Their passive-aggressive rivalry, bordering on friendship, is the heart of the film. A wealthy man of dubious principle (Walter Barnes) and an icy German marksman (Gerard Herter) are also in the mix, but female characters are in short supply. The incomparable Ennio Morricone supplies the score, though it's mostly variations on a single theme. Otherwise, his most interesting move is a twisted repurposing of Beethoven's "Fur Elise." The Italian version is about 20 minutes longer than the American version. I saw a less-than-optimal edit where the Italian scenes were inserted back into the film, undubbed. (Predictably, most of the cuts fall within the first half-hour or so.) I'd like to see a fully dubbed version someday.
Eric Broome
Super Reviewer
½
It's nowhere near as good as its reputation as the fourth greatest Spaghetti Western, but it is indeed a really cool movie. The reason it succeeds is mainly due to Italian superstar Tomas Milian, who is incredible as Cuchillo the knife expert. Lee Van Cleef is essentially playing Colonel Mortimer yet again, but that character is amazing so it's not like there's any need to complain. My problem with this particular movie is that it lacks scope, there was so much potential for a truly epic bit of storytelling. I'd say it's definitely worth watching, but expecting something in league with a Leone or Corbucci classic would be a mistake.
Conner Rainwater
Super Reviewer
The Big Gundown Quotes
There are no approved quotes yet for this movie.