The Big Bird Cage
(1972)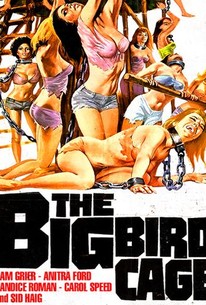 Movie Info
A group of female inmates attempt an escape from a Filipino prison with the help of an outside source. This exploitationer/spoof includes sex, nudity, profanity and violence.
News & Interviews for The Big Bird Cage
Critic Reviews for The Big Bird Cage
Audience Reviews for The Big Bird Cage
Marcus Woolcott
Super Reviewer
½
"Aw, you can't rape me - I like sex." Ridiculous to the extreme as a pitiful band of revolutionaries attempt to liberate a women's work camp which goes so horribly wrong it makes The Great Escape look like a resounding success. As for the women, no matter your type there's someone for you - uglies, beauties, black, white, Filipino, sassy chicks, crazy chicks, short chicks, a giantess, brunettes, and a blonde. (No fatties though, it's a labor camp after all.) My favorite was the sex-starved blonde who would't mind doing the time as long as she could get her freak on now and then - unfortunately for her all the guards are gay! Goofy thing is I can't identify her, the closing credits list character names but I'm sure over half of them aren't mentioned during the actual movie because apparently that would just confuse matters. I can pick out statuesque Anitra Ford as she has the most screen time as a model who is notorious for bedding around with government officials, and deliverer of the quote that opens this review. Disappointed Pam Grier is only in the movie quarter of the time despite top billing, but she makes the most of it. Sid Haig has fun as Django who goes queer eye for the revolutionary guy in order to infiltrate the camp. Top honors go to the warden for shouting every single line he's given in the way that every warden should in an exploitation flick, and naturally his best line is "I AM NOT AGITATED!!!!" And what better way to make your introduction as the meanest of the mean than by kicking a puppy? (Offscreen, don't worry!) If knife fights, shower scenes, skimpy clothes, campy acting, mud wrestling, choppy editing, attack dogs, patchy plotting, horny inmates, jive talking, and sugar cane fields are your idea of a good time, then you'll be sweet on The Big Bird Cage.
Doctor Strangeblog
Super Reviewer
Roger Corman and Jack Hill knock it out of the park again (to be honest, that combination is the only one that seems to work for me in the "women in prison" genre). The Big Bird Cage, like its predecessors, isn't perfect but damn is it entertaining. In this one you've got Pam Grier and Sig Haig starting a revolution with a whole lotta female slaves. Of course the slaves are tortured and worked like dogs, and they're clawing each other's eyes out to get laid. Sid Haig is hilarious as he impersonates a gay watch guard infiltrating the compound and hitting on the other gay watch guards. There's plenty of nudity, some explosions & fires and the rape scene to end all rape scenes: a slew of women raping a gay man. It's all a thing of exploitation beauty, and tons of fun to boot. This one is highly recommended.
Tim Salmons
Super Reviewer
The Big Bird Cage Quotes
There are no approved quotes yet for this movie.