The Beast
(1988)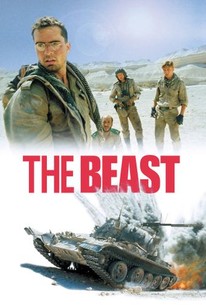 AUDIENCE SCORE
Critic Consensus: No consensus yet.
Movie Info
In Kevin Reynolds' The Beast, George Dzundza plays a cruel Russian tank commander who gets lost in the wilderness during the war in Afghanistan. As the enemy closes in, the glazed-eyed Dzundza must rely on his survival training to see him through this crisis. Meanwhile, one of Dzundza's men (Jason Patric), abandoned and left to die by his demonic commander, joins the Afghan cause. Filmed in Israel, The Beast (aka The Beast of War) was adapted from a play by William Mastrosimone.
Critic Reviews for The Beast
Audience Reviews for The Beast
The film tries too hard to be poigniant and it just doesn't work. None of the actors really connected or performed well. Nevertheless, an interesting true-life story, but not really compelling...especially post-911.
Christian C
Super Reviewer
½
'The Beast', whilst a visceral and intense film, lacks the scope, depth and power of war films such as 'Platoon' and especially 'Apocalypse Now'. Also, it borrows a lot from the plot of 'Platoon' which preceded it by two years; the troops being divided by their tyrannical superior. But my main issue with the film was the 'Russians'' American accents. At first I listened closely to every nuance of the Commander's voice, quickly realising he was 100% American; no effort had been made by any of the 'Russian' crew to attempt a Russian accent. This tarnished the integrity of the film, but I do praise the authenticity of the Afghans however, with Steven Bauer amongst others speaking in the native language with subtitles. Like 'Rambo III', which also opened in 1988 (one year before the conflict officially ended), the film is a political statement about the war and is clearly for an American/Western audience. As well as the unsavoury depiction of the particular cruel members of the Russian troops, the political stance of the production is explicitly revealed with quotes such as 'How is it that we're the Nazis now?' and 'I tried to be a good soldier, but you can't be a good soldier in a rotten war'. Ultimately, 'The Beast' gives a compelling and at times graphic insight into a war that doesn't have the cinematic coverage of Vietnam or WW2. Its dark tone and sense of vast wilderness achieved through effective cinematography and fitting audio make it a good cause to allocate 1 hr 40 minutes of your day to. (Certainly better than 'Rambo III')
Jack Hawkins
Super Reviewer
An liberal conscript Russian soldier in Afghanistan suffers at the hands of an obsessive tyrannical commander. Later he is abandoned to the mercies of the pursuing Afghan rebels for refusing to execute a Muslim crewmate and learns to understand his erstwhile enemies, as they join forces in a quest for vengeance. The Soviet occupation of Afghanistan is a rarely discussed topic in movies, and their campaign is often referred to as the "Russian Vietnam"; in fact the subject matter of a young crew lost in hostile territory combined with it's dreamlike atmosphere actually reminded me a little of a dusty Apocalypse Now. It's obvious where Reynolds' sympathies lie from the outset, as a small rural village is destroyed by Russian bombs and tanks, their well poisoned and women armed with rocks repelled with poison gas; this makes it ironic that the Russian crew are played by American actors which serves to remind us that it's actually THEIR soldiers who are subjugating the Afghans at the moment. The intelligent script also throws up some nice, uncontrived feeling moral retribution in the fact that Patric's character's attempts to learn about and understand his "enemies" proves to be his salvation, just as Dzundza's brutal and inhumane methods prove to be his undoing. Cleverly written, well played and some interesting subject matter make this an unusual and thoughtful war film.
The Beast Quotes
There are no approved quotes yet for this movie.