The Banshee Chapter
(2014)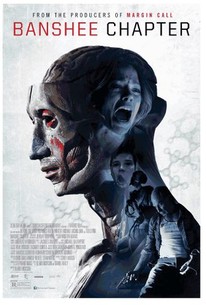 The Banshee Chapter Photos
Movie Info
On the trail of a missing friend (Michael McMillian) who had been experimenting with mind-altering drugs, a young journalist (Katia Winter) - aided by a rogue counter-culture writer (Ted Levine, The Silence of The Lambs) -- finds herself drawn into the dangerous world of top-secret government chemical research and the mystery of a disturbing radio signal of unknown origin. A fast-paced thriller blending fact and fiction, Banshee Chapter is based on real documents, actual test subject testimony, and uncovered secrets about covert programs run by the CIA.(c) XLRATOR
News & Interviews for The Banshee Chapter
Critic Reviews for The Banshee Chapter
Audience Reviews for The Banshee Chapter
½
Far from perfect, but how many horror films of the past few years can you say actually got *better* as the film progressed? I will say though, that it took me a full third of the movie to realise it wasn't meant to be found-footage.
An arguably decent horror. Tense and scary, enough to settle the horror itch.
Film Crazy
Super Reviewer
½
Not sure what to make of this film. On the one hand, I did appreciate how it focused on something very real, as the MK-Ultra experiments have been widely documented and reported on for years, so there's an air of realism, to the story, even if the scares are anything but. There's also a part of me that really didn't fully get into this movie and I can't quite put my finger as to why I didn't get into it. It's certainly ambitious than a lot of horror film, even if it borrows from HP Lovecraft, by Blair Erickson's own admission. It's obvious that the movie is a re-telling of Lovecraft's own From Beyond, it borrows so much from that short story that some will question this film's integrity. I can understand that, as this story is pretty much exactly the same as From Beyond's with the exception uses the hallucinogenic drug experiments performed by the CIA for 20 years. The effects are the same, the experiments the CIA performs have led its test subjects to, and I quote from From Beyond's Wikipedia page, "perceive planes of existence beyond the scope of accepted reality." Exactly the same thing happens here, so, again, not a particularly unique film outside of the fact that it uses something real to 'legitimize' its story. It's got some good scares all things considered, but it doesn't really offer as truly a creepy experience as much as it deludes itself into thinking it is. I think a film like Lake Mungo tells an effectively creepy story, they don't use jump scares. Just bits and pieces of information here and there revealing a larger, darker story. The film does some of that, but it doesn't really enough of it, focusing more on the jump scares. Granted, the jump scares are probably more well-thought out than you'd probably see in other films, but they're still jump scares. It's nothing that will stick with you. The acting is good, Ted Levine is massively entertaining as Hunter Thompson...ummm, I mean Thomas Blackburn. If you have even the slightest knowledge of Hunter Thompson, then you know Blackburn is a clear rip-off of him. There's also this author, whose name I can't remember, that was part of the CIA's experiment with LSD, who later became a big proponent of the drug, and I'm reminded of that as well in the Blackburn character. Katia Winter is fine as well, but she doesn't really have much to do other than to scream a lot and pretend to be in love with James, the dude she's looking for. Ted Levine gets the meat of the script, he's great here, even if his character is essentially Hunter Thompson under another name so they wouldn't get sued by the Thompson estate. I digress, this movie was decent. It's got some great ideas, but so-so execution, mostly because of how much it actually borrows from HP Lovecraft and the film not really achieving a creepy, uneasy tone that would've benefited this movie a lot. Average at best.
Jesse Ortega
Super Reviewer
The Banshee Chapter Quotes
There are no approved quotes yet for this movie.